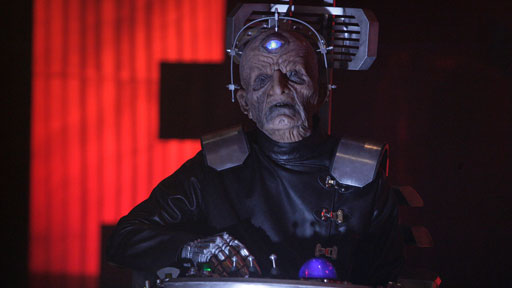 Longtime readers of this blog know of my antipathy for Russell T. Davies's contributions to Doctor Who. So it was with no expectations whatsoever that I fired up "Journey's End," the season finale of Doctor Who, assuming that my intelligence and my emotions would be condescended to and that the fanwankery set into motion last week would be taken to new masturbatory heights. Yes, there was a gratuitous appearance from K-9. Yes, there was the Davros-Sarah Jane Smith showdown referencing "Genesis of the Daleks." The less said about the phony resolution to last week's cliffhanger, the better. And I could do without the ridiculous manner in which Earth was transported across the galaxy.
But despite these melodramatic flourishes, this episode worked for me. It was a fitting end to Davies's tenure on the show, bringing in nearly all of his supporting characters and leaving the Doctor more or less where he started at the beginning. I enjoyed the Daleks floating above Nuremberg speaking German. (Alas, Davies's German is not so good. He got the German verb for "Exterminate!" wrong. Nevertheless, I enjoyed the Nazi parallels.) I liked Davros questioning the Doctor's motives, which not only echoed the lone Dalek from "Dalek," but referenced similar talk of genocide from "Genesis of the Daleks." Let's not forget that in "Genesis," the Doctor asked Davros whether he would let loose a virus that would destroy all forms of alien life. And this quiet reference to the show's longtime continuity was a surprisingly restrained Davies moment that I have to give him props for.
The whisper into Rose's ear, the heartening future of Sarah Jane Smith having a 14-year-old, and Donna's fate suggested unspoken connections that called into question the notion of what it is to be a companion to the Doctor. Traveling with the Doctor, whether as a companion or a viewer, involves being at a specific time and place in one's life. But Davies reminded us with this finale that no matter where one is at in the series, there's always a thread one can pick up. So at the end of Davies's run, I have to thank Davies for using his influence to revive Who, while remaining wary of his overall writing contributions during the past four years. Nevertheless, I have every faith that, in the hands of Steven Moffatt, Who will truly demonstrate its potential to capture our imagination. And I'm glad that Davies closed out the show with a rousing, if problematic denouement, without entirely taking the easy way out.
Having said all this, however, there's a part of me that wonders if Moffatt will continue portraying Tennant's Doctor as the amiable metrosexual we all know him to be. To some degree, Tennant is the Alan Alda Doctor. The geeky guy who knows how to order the best wine at an Italian restaurant, but who will probably get his ass kicked in a roadhouse if the cops don't show up in time. There were a few reminders of the tough Eccleston Doctor in "Journey's End," and I believe Tennant is capable of inhabiting this emotional territory. But I certainly hope we begin to see more of the Doctor's dark side over the next few years. If Moffatt wimps out, I'll be one of the first to lock his writing contributiosn in my crosshairs.
[RELATED: Worrisome io9 speculation that Moffatt is overrated.]