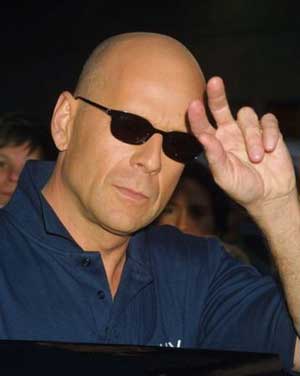 Hack Hollywood director Michael Bay informed friends and colleagues that he was "sick to death" of turning out crappy films and announced that his next project would be a film adaptation of Flann O'Brien's At Swim-Two-Birds, mainly because, as Bay put it, "the Lost writers may be onto something with this fucking literary trend."
Bruce Willis is now in talks to portray the book's main character: a college student who writes a novel and spends time shooting the shit with his pals. Some O'Brien enthusiasts have expressed reservations about casting Willis, who is bald and 53, in the role of a character some three decades younger.
"Fuck you. I'm Michael Bay. And he's Bruce Fucking Willis," said Bay, who cited Sylvester Stallone's recent septuagenarian turns as Rambo and Rocky Balboa. "You get John McClane and David Madison in one package! Plus, there aren't many action stars these days who like to smoke in bed."
Bay would address the age difference through CGI effects that he pioneered with his live-action version of Transformers. Bay was also considering hiring an additional actor who Willis could "transform" into between scenes.
Dalkey Archive's Chad Post has distanced himself from these developments. He had no comment, but is reportedly "not sleeping very well."