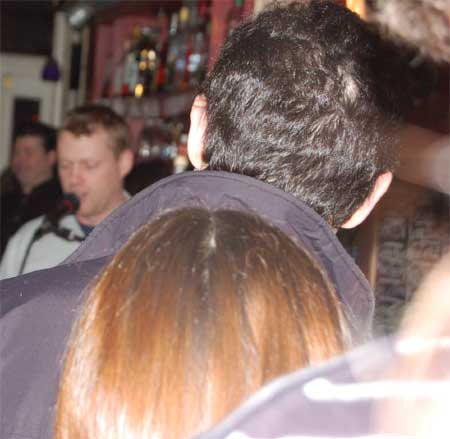 This was roughly the view you received if you had the privilege of attending the Boxcar Lounge on Wednesday night. The venue was indeed shaped like a boxcar and it was SRO for those souls, like Levi and me, who had arrived from McNally Robinson. (Of that counterprogramming, while John Freeman made a valiant attempt to ask questions of Lee Siegel that would cause him to think instead of fulminate more on his puerile anti-Internet views, the two of us left after twenty minutes. Siegel, as a speaker, has the voice of a semi-squeaky plush toy that still has a bit of air left, but hasn't yet figured out that the tots have moved on to newer baubles. I had seen this kind of arrogant and opinionated blather before when the speaker had referred to itself as Andrew Keen. So there was no need to subject myself to it again. To offer a small sample: According to Siegel, the Internet is apparently composed of 80% porn. And while it's absolutely diabolical for people to leave anonymous and hateful comments (as they did for Siegel's posts at the New Republic), apparently it's perfectly peachy keen for Siegel to impersonate "sprezzatura" because there is nothing forbidding such a cheap impersonation under journalistic rules. Never mind that Siegel's shenanigans were hardly transparent and had to be ferreted out by top brass at the New Republic. I took notes, but I felt like I was transcribing a kindergarter's efforts to discuss Kant's Critique of Pure Reason based on a one-sentence summary. As such, my notes are not worth reproducing or summarizing.)
You couldn't get a seat at the Boxcar Lounge. Unless you were one of the smart ones, like Maud and her friend, who arrived early to get a seat. There were many bloggers in the crowd, including Jason, Levi, Marydell, Lauren, and Sarah. It was also a pleasure to talk with Michael Orbach, Jami Attenberg, and a number of other people who I will no doubt remember after I hit the "Publish" button. I'm sorry.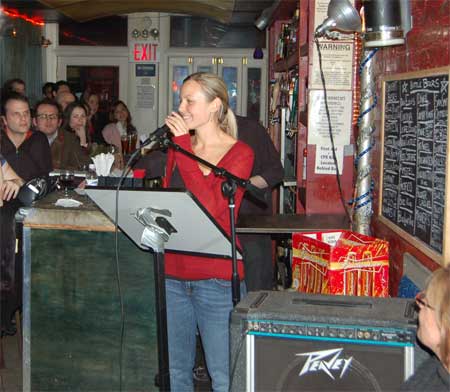 Besides, who needed Siegel when there was another installment of Jami Attenberg's Class of 2008 Reading Series going down? This one featured Michael Dahlie reading from A Gentleman's Guide to Graceful Living, Lynn Lurie reading from Corner of the Dead, and (pictured above) Ceridwen Dovey reading from Blood Kin. Dovey was one of the evening's standouts. Her reading was quietly intense and suitably genteel, and I am now most curious about her novel.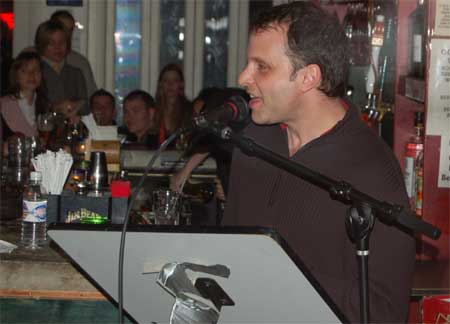 And then there was Mr. Sarvas himself, who read from a chapter of his forthcoming novel, Harry, Revised: the infamous incident in the bookstore. The chapter contains a disparaging reference to David Foster Wallace and I felt compelled to cry out a "Yea!" in DFW's defense. Mark likewise felt compelled to point to me during this moment.
Is Harry, Revised any good? I was a bit hesitant to approach it, as my candor compels me to tell even my closest friends when their work is not up to snuff. But I have read the whole of Harry, Revised and I can recommend it. Mark has ventured down a somewhat unexpected path here, unafraid to have his protagonist enter into uncomfortable territory. The book's style displays Mark's clear love for Fitzgerald and there is something of a French farcical feel that permits material that should not work to be executed with a crazed grace.
I am sorry to report, however, that there remains one passage that will almost certainly be nominated for The Bad Sex Award. But you'll have to wait for a forthcoming installment of The Bat Segundo Show to find out precisely what it is.