(This is the fifth of a five-part roundtable discussion of Ellen Ruppel Shell's Cheap: The High Cost of Discount Culture. Other installments: Part One, Part Two, Part Three, and Part Four.)
(A podcast interview with author Ellen Ruppel Shell will follow this afternoon. Thanks to all the roundtable participants for their input, Penguin Press for providing us with the books, and for Ms. Ruppel Shell for her time and generosity.)
Erin O'Brien writes: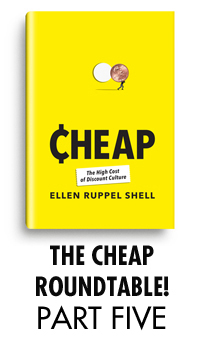 I thought one of the most stunning aspects of our conversation was how emotional many of us became over a fairly straightforward work of nonfiction. It just goes to prove what I've always believed: money is a character in each of our lives. It has a point of view. It reacts to how you treat it. Just like pets and their owners so often look alike, a person's money is imbued with their persona. When anyone starts talking about how we spend it or how we should spend it, we take it personally.
Now for a few musings:
The tighter you hold your money, the more you poison it.
To a man waist deep in quarters, fifty cents means nothing. To a thirsty man standing in front of a vending machine, it means everything.
Each one of us participated in this exercise freely and without compensation. We didn't even have to shell out $25.95 for the book, which Penguin sent to us for free.
Think of a dollar bill. In your pocket. Slipped under a coffee cup on a diner counter. Floating in a filthy puddle. What does it mean to a Chinese laborer working to produce little plastic pink flamingo key chains or a shrimp farmer in Vietnam?
Now imagine that bill was a one hundred dollar bill. In God We Trust.
If there were a followup work of fiction for all this, my recommendation would be Frank Norris's McTeague.
To close, I offer an image. Behold the looooong underwear rack at the Unique Thrift Store on Lorain Avenue in Cleveland. Although I did not purchase any of the used underwear, I dare say I felt at once obliged and uncomfortable taking a picture of it. For more on this subject, see the following blog post.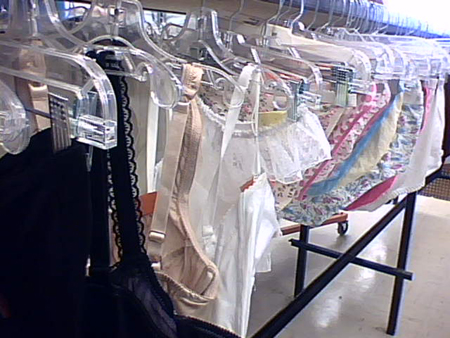 Robert Birnbaum writes:
I believe that at the heart of this back 'n forth is a shadowy sense of economic justice and environmental rationality.   We have heard much about or are  quite aware of the beast we are up against. Remember even in the mid-19th century, while he was way off about communism, Marx's analysis of capitalism was pretty acute.
The recent spate of microeconomic analysis books promulgate strategies and tactics employed to advance the moneyed class's interest(s) — which is the increase/accumulation of capital. So if most of us are exploited and alienated along the way, well, we have, uh, freedom. I'd place more value on these books if I could tease out a viable call to action — which I haven't to date. 
It occurred to me, since there was some discussion of bookshelves — meaning most of, if not all of us, are book "consumers" — that there was no mention of one of the most valuable community resources found in most Western communities — the library. Why do we saddle our selves with these bulky weighty objects that have little monetary value? Particularly in a mobile society. Books are a burden when we exercise that mobility.
Why do we hobble ourselves in that way?
Peggy Nelson writes:
It occurs to me that we have the material here to create a great mind-map from all the points brought up in this discussion, from the abstract overall theories that contextualize the analyses to great practical suggestions for how to actually do it (live cheap(ly), that is) at the ground level.  Mind-maps, while not the solution to everything, can be a great tool for thinking about and remembering wide-ranging discussions.
Miracle Jones writes:
This whole discussion got me pretty wound up thinking about crappy bookshelves, the price of eBooks, well-crafted objects, and the future of publishing.  How do you make books worth the price (keeping writers fed) while still accepting the inevitable, that books are now completely free to copy and distribute?
Anyway, I wrote this as a response.
It's probably not useful for the actual panel discussion about Cheap, but I figured it was worth sharing. 
Amy Riley writes:
I may be way too late to get in on the conversation, but I have finally finished the book, and in the process learned just how much longer it takes me to read non-fiction!
For me personally, the book was quite eye opening. While I could certainly recognize some ridiculous consumer behavior in my life, and there have been times when I've had to talk myself out of poor choices because they seem like a good deal when they really aren't, I'm not sure I ever put it all together as a national sickness with such a long history!
So all of the psychological elements about fairness and getting a good deal and the detailed history of discount stores was helpful in giving me an overall picture of the situation. I think there are probably a lot of people like me, who have some vague ideas that all of this isn't good, but don't nkow the complete story or rather, enough of the story to begin to understand why it isn't good and how it's affecting our nation and our personal lives.
In regards to what can be done, this is perhaps the most difficult aspect. So now I've read this book, and I can understand how the products I buy aren't necessarily good quality or a good deal and the food I eat has serious issues. But what can I do? Maybe for a while, I'll be hyper-aware of everything. But can I really pull out of this seeming addiction? After all, a good portion of the book seems devoted to explaining just how it is an addiction. I think it would require a series of ongoing hard choices and the surrender of choice in fact.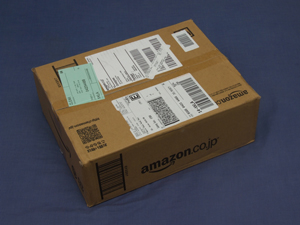 Finally, about books, I have often considered how Amazon (the devil to many of you!) made book ownership possible. I never bought brand new books before I bought them on Amazon. Feeling like I wasn't paying full price certainly led me to buy more. So it always confused me when people railed against Amazon on behalf of independent bookstores. Amazon didn't steal my business. They just created some for itself. And yet truthfully, here I sit with so many books surrounding me, many of them unread, and realize that owning books, especially the number that I do, isn't something that I need. Maybe this is something that is actually bad…for the environment, for the economy, and for publishing. Giving up book ownership is not something I want to do. It would be a "hard choice" and it's honestly not one I'm willing to make at the moment.
I do think it's interesting in relation to digital books, how high the demand for "cheap" and "now" is! Especially considering the response to Sourcebooks's decision to delay the eBook edition of a popular forthcoming title due to the low price of Amazon's eBooks. There definitely seemed to be a mentality: "We deserve this the way we want it and at the price we want it when we want it." After reading Cheap, I do have to wonder what the real future of books will be.
And hey, thanks for letting me share a few thoughts so late in the game.
Ellen Ruppel Shell responds: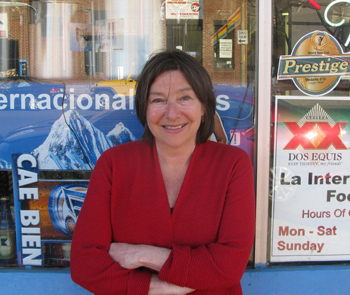 I am humbled and honored to have such a thoughtful panel with which to discuss Cheap's vagaries. Thanks to Ed for inviting me. I'll do my best to keep up with you all.
Allow me to open by clarifying a few points, beginning with Ed's Boar's Head meat sandwich example. Ed lives in a sort of village, where he regularly patronizes merchants whose merchandize he knows and values. So when the new deli in town undercuts competitors by a quarter, Ed can make an honest decision—and all things being equal, he is perfectly within his rights to decide on the less expensive lunch. However, were Ed to find out that one merchant was using not Boar's Head but advertising Boar's Head and using some inferior no-name brand, or that said merchant was abusing his employees or pouring toxic chemicals into the street each morning, there's a good chance Ed would be willing to pay—would indeed want to pay—the extra 25 cents to avoid patronizing that merchant. My point of course is that in the era of Cheap, we are not really in our home neighborhood. Rather, we are tourists in a strange land—often we don't know where our purchases are made or who made them or with what. So price becomes the one "objective" determinant of value—and low price trumps almost every time. But as I hope that I make clear, price is not objective. It is highly subjective, and prompts a strong emotional response. (Speaking of Amazon, which many of you do speak of, recall how pissed off customers became when they learned that Amazon was charging some of us more than others for the same book! Huge emotions were raised by this—mostly anger– yet far less anger is evoked when we pay a discount price for very bad books.)
Another point — I went to great lengths to avoid the inevitable charge of elitism. It is for this reason that I went to IKEA (which, by the way, took me a full year to get into-it is a very private company.) As you all note, I also take on Whole Foods. I hope I've built to an argument that the 100+ year old concept of Frugalism is a reasonable antidote to Cheap — when I quote near the end from the 1907 work of Simon Nelson Pattern of the Wharton School of Business:
The typical capitalists are lovers of power rather than sensual indulgence, but they have the same tendency to crush and to take tribute that the cruder types of sensualism possess. The discipline of the capitalist is the same as that of the frugalist. He differs from the latter in that he has no regard for the objects through which productive power is acquired. HE does not hesitate to exploit natural resources, lands, dumb animals and even his fellowman. Capital to such a man is an abstract fund, made up of perishable elements which are quickly replaced… The frugalist…stands in marked contrast to the attitude of the capitalist. The frugalist takes a vital interest in his tools, in his land, and in the goods he produces. He has a definite attachment to each. He dislikes to see an old coat wear out, an old wagon break down, or an old horse go lame. He always thinks of concrete things, wants them and nothing else. He desires not land, but a given farm, not horses or cattle and machines, but particular breeds and implements; not shelter, but a home…. He rejects as unworthy what is below standard and despises as luxurious what is above or outside of it. Dominated by activities, he thinks of capital as a means to an end.
This is very far from elitist. I'm trying to show through gradual, level headed, heavily researched and cited evidence that "cheap" undermines us by lulling us into believing that our world and our lives are better thanks to cheap goods—when reality shows that the spiraling down of prices has led to a new norm in which the "China Price" becomes the price to beat. We cannot beat the China price, we cannot even approach it and survive as a democratic nation with a functional middle class. I support this view with evidence from history, psychology, economics — and lighten it a bit with personal experience that led me to ask and seek answers for questions raised by my own self defeating behavior as a bargain maven.
As for Janet Maslin's review — it is everything that my book is not. Maslin begins by suggesting that I am not to be trusted because I describe the same experiment differently than did another author, Chris Anderson. But had Maslin done her homework — or had she truly read my book — she would have known that the experiment I describe is not the one described by Anderson. These are two completely different experiments. (You, dear readers, should have been tipped off by her Dan/Daniel beef — are you friggin' kidding me?) Also, I'm afraid that at least one of you seemed to have read Maslin's review more carefully than you read my book. I have never in my life stepped foot in a Red Lobster. The scene that Maslin scares up and bungles was a birthday dinner I enjoyed with friends at a funky little place that I do not name. During that dinner, I asked the wait person where the restaurant sourced their shrimp, and she smirked — telling me that, like most restaurants, the shrimp there was imported from Thailand. I had just learned where and how Thai shrimp is "farmed" — and could not stomach the idea of eating it. But as I say, my friends ordered it — and loved it — and I'm trying to show how difficult it is to know — to truly know — what goes into what we buy. I was attempting a bit of irony here…but perhaps it fell flat?
Finally, I'm sorry, but the charges of "We already know this" ring hollow to me. Yes, you may have had some strong ideas that cheap goods were problematic — but did you know how the invention of the shipping container, the bar code, and the price tag made "cheap" possible? Did you know the history of the shopping cart? Or how and why it snuck into discount stores? Or that its very presence makes us buy on average, one more thing per trip to Target? Did you know how very little we spend on consumer goods, and how the percentage of income we spend on fixed costs has skyrocketed in recent years — making said cheap goods all the more seductive? Did you know that low price per se had become a lens through which so many of us make our buying decisions? Or understand the high/low problem of cheap goods making quality goods so much more expensive? Did you know Gresham's Law of bad money pushing out good — of Americans no longer being able to determine the quality of what we buy — and therefore spending too much on low cost goods, thinking we're getting a "good deal?" Did you know that we spend 80 percent more in outlet malls than in regional malls, that IKEA designs to price and does whatever it takes to get to that price, and that the American Chamber of Commerce in Shanghai lobbied against workers rights in China? Did you really know how low price works to trigger the hedonic response in the brain? Did you know, for example, what agricultural economist Michael Morris said in the book — that no matter how the "slow food" movement romanticizes the abstract notion of "the good peasant," the planet cannot survive without agribusiness? Yet at the same time, we need more small farms. We need both small farms and huge farms to survive. On a planet that is on its way to 9 billion souls, the idea that we can all sing campfire songs and survive on locally farmed food is a pipe dream. On page 171, I make a very clear argument about how low food prices in the West led to the food crises of 2007 and 2008 that starved millions around the world. Can you honestly say you all knew that?
Come on, we all knew that fast food wasn't good for us, and we'd read of the horrors of the slaughter houses before. But Fast Food Nation galvanized millions around the world — especially the young. We know that local food is better food, and we have heard for decades about the dangers of agribusiness (see Mark Kramer's excellent Three Farms, for example, published many years ago). But Michael Pollan's message nonetheless resonates — and is no less important than it would have been had it been entirely new. The goal of this type of book is to illuminate what's right in front of our face — to get into the guts of the thing, to analyze it and explicate it.
Like most journalists worth their nickel (and I do mean nickel), I believe that knowledge is power. If it weren't power, vested interests wouldn't work so hard to keep it from us and wouldn't strive to hide the provenance of their products, for example, or work so hard to make it difficult for us to determine how they arrive at their prices. I wrote Cheap to empower consumers — which is to say everyone — with deep understanding of the history, politics, economics and psychology of low price — and what it means to us as individuals and to society at large. I offer an alternative strategy — the frugalist concept backed up with a few examples — and stand by it. I urge readers to vote both in the voting booth, and with their pocketbooks — and give some idea how these ideas have changed my life for the better.
Thanks again for the opportunity.