Ellen Ruppel Shell appeared on The Bat Segundo Show #297.
Ellen Ruppel Shell is most recently the author of Cheap. The book was also featured in an in-depth five-part discussion with several thoughtful people, which you can investigate here: Part One, Part Two, Part Three, Part Four, and Part Five.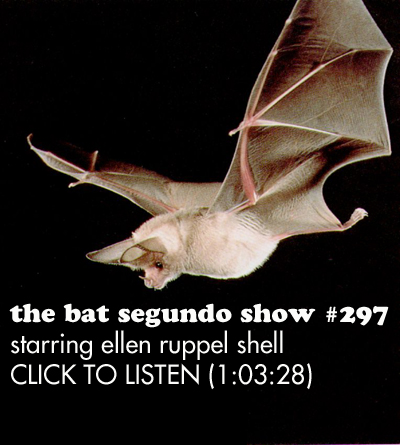 Condition of Mr. Segundo: Bargain hunting for alcohol.
Author: Ellen Ruppel Shell
Subjects Discussed: Pinpointing the phenomenon of discount culture, Edward Bernays, bargain hunting, game theory, Gresham's law, fixed pricing vs. elastic pricing, John Wanamaker and the price tag, haggling, thought experiments concerning the powerless buyer, mattresses and reference prices, discount pain medication and less effective treatment, the placebo effect, Jason Furman, Jerry Hausman, and the underestimated price benefits on Walmart, not accounting for quality when considering working-class Walmart benefits, iPhone pricing, dishwashing liquid and the pennies price trap, manipulating public opinion, Whole Foods and the decline in demand for luxury goods during 2008, Veblen's "conspicuous consumption," outlet malls, buying one more thing because of a shopping cart, shrimp's move from a delicacy to a cheap and ubiquitous food, IKEA's illegal wood-cutting, "out of sight, out of mind" business practices, the Chinese "luxury" of human rights, Henry Ford's virtue of a worker owning his own car, the rise of disposable employees in the 1990s, at will employment, the lost social contract between the company and the employee, labor aristocracy, workers monitored by the corporations, deficient pencils, T-shirts that work, thought experiments about minimal manufacturing standards, the collapse of the Second Bank of the United States, Andrew Jackson, and the financial panic of 1837, globalism, Ricardo's theory of comparative advantage, and Douglas Rushkoff's Life, Inc..
EXCERPT FROM SHOW: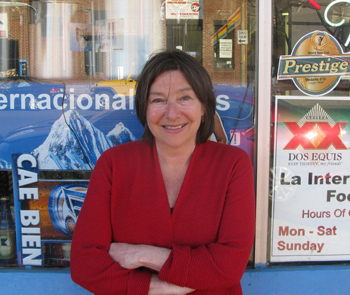 Correspondent: You bring up Gresham's law a few times in the book. That principle in which bad money drives out the good. Your example involves watered down milk over purer milk. But as you point out both in the book, with the idea of Americans having less spending money for T-shirts and lettuce, and in this particular idea that you just said in your last answer about looking for the ultimate bargain, if we have indeed become accustomed to our watered down milk, why then would we start accustomizing ourselves to purer milk? Or this higher aspect of craftsmanship? If there is no economic incentive for us to do so, then surely are we trapped in this cycle of bad money driving out the good?
Ruppel Shell: Well, that's a really good question. And Gresham's law is a very important concept — I think — for us to keep in mind. Gresham's law — the so-called bad money driving out good — was illustrated, as you mention, with this milk example. And that is, if there are merchants or retailers selling watered down milk at 80 cents a gallon. And this is just theory. We know we don't pay 80 cents a gallon anymore for milk. But if they're selling watered milk for 80 cents a gallon and full milk for $1.20 a gallon, and they write down the label, "This is watered down milk. This is pure milk," people who want a bargain or who want to pay less buy the watered down milk. And there's no problem there. They know what they're getting. But if it becomes the case that watered down milk gets sold as milk — just milk, okay — both cartons were sold as milk and were charged 90 cents, it seems that we're getting a bargain when we buy this watered milk. Because we just assume it's milk, okay? And those who try and sell full milk at $1.20 a gallon will go out of business because of this low price. We're driven by price, not quality, right? We're looking at the price. And they will go out of business. So pretty soon, everyone is selling watered down milk at 90 cents, and we all think we're getting a bargain. And this is the metaphor I use for American retail culture today. Many of us are buying what I consider to be — including myself; I include myself in this — watered down milk and paying a low price for it, and thinking we're getting a bargain. But we're not getting a bargain. We're getting watered down milk at a somewhat higher price than we might be paying if all the actors were transparent. If we really knew what we were getting.
And another thing I say in the book is that knowledge in the marketplace is probably the most valuable thing. Actually knowing what you're getting. But in global retail culture, it's very, very difficult to know what you're getting. It's very difficult. The Internet hasn't helped us all that much. There's all sorts of tricks that retailers use to hide the product's background and the manufacturing techniques that go into building up products. It's very, very difficult to know. And I go into the many tricks in the book. And I won't bore you to death today with all the tricks. But so many of us go into retail stores not knowing what we're getting. So what we are is price-driven. Since it's the only thing, the only so-called objective factor is price and that's how we make our comparisons. And one of the things I point out in the book is, in fact, pricing is not objective. It's probably one of the most subjective factors in purchasing. But we think it's objective and so we use it as a marker.
Correspondent: Well, there's also the innovation of the price tag, and the fact that you no longer have a scenario in which the buyer can in fact haggle with the seller. That relationship has completely changed in the last 120 years. And I'm wondering if you feel that, if we were to restore that particular impulse, we might perhaps drive out this additional impulse. This present impulse. I mean, we go to Kayak to get the best flight deal. We go to Google Shopping to find out who's selling that iPhone, that iPod, or what not at the lowest possible price. And yet at the same time, price is elastic, as you point out in the book. The common example used is: when the iPhone initially came out, it was marked $200 more than what it was two months later. And a lot of people were upset by this. So if the buyer has no control over the price, then I'm wondering if offering some kind of return to haggling in some sense might be part of the solution here. Or is our relationship with, for example, Third World Labor so interdependent upon cheap labor and cheap goods that it's impossible now?
Ruppel Shell: I think haggling over price has become quite difficult for the very reasons I cited before. We have real difficulty knowing what things are worth. And you talk about the price tag, that's true. The price tag is a more recent innovation than I think people realize. It's about a 120 year old invention, as you say, invented by a retailer named Wanamaker, who was actually among one of the first people to buy the notion of sales. He was actually a really good guy. His idea was that his own employees should be able to afford the things that he had. He devised the wholesale model. The low-cost model. He kind of popularized that model. And after that, the model was kind of perverted by a colleague of his — Frank Woolworth, who many of us have probably heard about historically — who believed that the way to keep prices low was to pay his clerks as little as possible and to deskill the position of clerk. That means that they had very little knowledge. Very little authority. And he would pay them $2-3 a week, which forced them to live at home with their parents and allowed them very little latitude. So the Woolworth model is a more typical model in some of the discount empires today — the most famous being Walmart, in which employees are paid quite poorly on average and there's a very, very high turnover. So that's the model. The Walmart model was actually a very old model that was started by Frank Woolworth.
But to respond to your question about whether I think unfixing the prices, freeing the prices, allowing them to haggle over price would be helpful, it's an interesting idea. And I could imagine it happening. I think certainly when we buy a used car, for example, we apply that method still. There are still things we do haggle over. When we go to a flea market, we can haggle. But in general, I don't think we're going to lose the price tag. I don't think we're going to go back. What I'm suggesting that consumers do is think a lot about the object and less about the price.
BSS #297: Ellen Ruppel Shell (Download MP3)
This text will be replaced