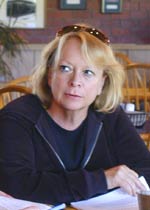 National Book Critics Circle president Jane Ciabattari has revealed that there will be no less than a thousand panels devoted to book discussion during the month of April: with sometimes as many as 112 panels at one time.
"Panels are the only way to address the goals of our organization," said Ciabattari, who got the idea after reading something about "the German form of life." "We want to have panels about panels. We want to have panels about panels about panels. Just to go the extra mile. Just to show the other bloggers that we're more hard-core than they are."
The panels would be followed by several long reports posted on Critical Mass, the NBCC's blog. Ciabattari indicated that there would be at least five reports for each panel. Just to be extra sure that every turn of a panelist's head was dutifully reported so that future literary enthusiasts could know all about it. The panel reports will be written by NBCC members who Ciabattari describes as "friendly bloggers."
Comments posted to the Critical Mass blog will still take three days to be cleared and may take even longer because of all the time spent organizing panels and panel reports.
"I guess this demonstrates that April is indeed the cruelest month," said Wilma Atherton, a grad student who lives and studies at Columbia who had hoped that the newly elected NBCC board would concentrate more on books and less on talk of books. "I guess this means I'll have to mine that pamphlet that the n+1 boys shoved under my door for literary value."