(This is the third of a five-part roundtable discussion of Sarah Hall's How to Paint a Dead Man.)
Other Installments: Part One, Part Two, Part Four, Part Five
More on Hall: "The Early Fiction of Sarah Hall" and a one hour radio interview I conducted with Hall in 2008.
Brian Francis Slattery writes: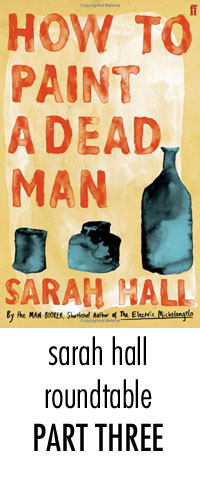 This has all been a pleasure to read so far, and good to be meeting some of you, if electronically, for the first time.
When I was in my first year or so of college, and an ambitious little prick, I once asked a professor what I should read for the summer. For some reason I'd decided that I was going to read either a bunch of Faulkner or a bunch of Woolf. This professor smiled broadly when I laid out my choices ("what an ambitious little prick," he was probably thinking ) and then said "I'd go with Woolf. I really admire Faulkner, but I love Woolf." I promptly disregarded his advice and read a bunch of Faulkner, but the distinction he made between admiring something intellectually and liking it emotionally — and the fact that he was able to make that distinction at all, and so casually and easily — really stuck with me, and ended up having a profound effect on me as I struggled to become a better reader (a struggle I continue with today).
This isn't a backhanded way of saying that I didn't like How to Paint a Dead Man. I liked it fine. But I find much more to admire in it. The writing itself is gorgeous, pretty much cover to cover; for readers
who love language, Sarah Hall's sentences are more than enough to keep the pages turning (like Abigail, I wasn't put off by the second person, especially given that she makes it make sense really quickly).
The tone of the book is precise and exquisitely well developed (I didn't mind, for example, that that characters pretty much sounded like one another, because it increased the book's overall effect). And from a formal perspective, as several people have already mentioned, it's really neat that the experience of reading a book about three painters and a photographer who works in a museum is bit like walking through a museum and looking at a series of paintings and photographs: Form follows function and subject. I also liked the way Hall framed (hold on to that thought) a lot of her subjects: the artists vs. the critics and the search for meaning, as well as the more specific question of whether all that noise people made in the late 1960s amounted to anything. (I think it's kind of funny that the preoccupation with the late 1960s has been passed down a generation, possibly two, by the way. I'm told that teenagers these days are as into Led Zeppelin and the Beatles as I was when I was a teenager in the early 1990s. Which is interesting when you stop to think that, generationally speaking, teenage me or a teenager today getting his mind blown by Led Zeppelin to the detriment of contemporary music is akin to a kid in 1969 plugging his ears to Led Zeppelin and the Beatles and getting his mind blown by Frank Sinatra's records from the 1940s, or Bessie Smith's records from the 1930s. That said, I also happen to think that Frank Sinatra and Bessie Smith rule, but now I'm getting off course. Moving on.)
So Hall is really smart and a terrific writer. No question about either of these things. But I found it difficult to connect to the book, to give myself over to it, and I say this as someone who gives himself over to books very, very easily. What's my problem? you might ask. It's what a few people have already mentioned: There is almost no plot.
This isn't the same thing as saying nothing happens. Plenty of things happen. But very little of it is due to the characters actively, well, acting. I can think of only one instance in which a character truly acts–Peter's figuring out how to free himself from his predicament on the hill–and that happens almost at the end of the book. I know, I know–if the book is really more like a painting, then it shouldn't have a plot in the conventional sense. Plots move forward in time, whereas paintings give you everything at once. I get that, and intellectually, I admire that the book does it; intellectually, I admire many, many things about this book, especially its conceptual underpinnings. But that didn't stop me from getting, as Ed put it, fidgety.
It's also interesting to me that Hall chose to have so little plot in her book, given that she raises a number of issues, both intellectual and emotional, that having more plot would help her explore. Here I'm about to semi-break one of John Updike's excellent rules for book reviewing–"do not blame [the author] for not achieving what he did not attempt"–but I'm doing it mostly as an thought experiment, not to set the book up to fail. After all, plot isn't just plot, as I have no doubt Hall knows. It's a way to develop characters–are not characters defined by their actions as much as their thoughts, and sometimes the friction between the two? It's also a way to–and I hate these words, but–operationalize and mobilize the ideas in a book.
Let's go back to the way Hall frames her ideas. Peggy argued that "the character of Giorgio might be old-skool and prefer to leave his frame to the dealers and critics … but for Hall to accept this at face value and treat not only contemporary interpretations of Giorgio's work via this trope, but to also view the other artists in the book through it, is doing no one any favors, least of all an author who proposes to use language to plumb meaning in visual art." I agree with her, and couldn't help but feel that, by leaving the idea static, an opportunity had been lost. Giorgio is a somewhat reclusive painter who has difficulty talking to critics. Peter is an outspoken, sociable painter who has no problem talking to and arguing with critics,
sometimes to their faces. These two painters write to each other all the time, it seems. Would it not have been interesting to have these two talk to each other directly about their relation to critics and the interpretation of their work? And argue about it? This would help us learn more about both characters *and* let Hall bounce from point to point to push the book's ideas further–to get beyond the frame, or to fill it in. Another example: So Nathan doesn't find out about the affair. Fine. But what if he did? Given that Nathan appears to be a fairly easy-going, lighthearted guy–in many ways, not so dissimilar from what we know of Danny–a confrontational conversation between them might have been interesting in moving the ideas in Susan's story forward and showing us more about these two characters–Nathan's relationship with Susan, and Susan's relationship to both Nathan and her brother. Then there's the ideas about the 1960s–so much fertile ground there, between Danny, Susan, Peter, and Giorgio, none of it more than briefly surveyed.
Clearly, more plot would result in a very different book, and might very well have destroyed both the concept of HTPADM as a still-life painting and the unmoving, tense spell that Hall casts through her writing–like I said, two things I really admire. So if the issue of the relative lack of plot came up, either while Hall was writing the book or in conversation with her editor, I can totally see why they weren't explored. (It would be a great question to ask Hall directly, rather than have me blather on about it speculatively.) But somewhere in the ether, where there exist alternate drafts of the books we read, there's a version of HTPADM that's livelier, more argumentative. There are even glimmers of such a book in the final sections of HTPADM, and Hall is such a good writer that I believe she could have pulled it off, preserving everything that's good about the book already while applying the same mounting energy in those last pages to the story all the way through: a still life, but still, life.
Kathleen Maher writes:
Having been away for a week, I found the critiques so far of How to Paint a Dead Man terrifically enlightening. Sarah Hall is new to me and the novel together with your insights have felt like a blessing.
As Ed wrote: discussing this book begs a subjective viewpoint perhaps more than most fiction. Taking this as permission, I offer a few personal facts that affect my response to any work of fiction that aspires beyond commercial goals: As an unschooled and mostly unpublished fiction writer myself, I take an author's "authority" as real, and am reluctant to conjecture about other ways the book might have been written. Until recently, when I began experimenting with serial fiction online, I preferred a plot that lagged behind a story's character and style.
So the still-life quality here and its plot–where the characters effortlessly change like day into night–delighted me.
It's probably pertinent, too, that I consider literary "failures" as a sign that a fiction writer is honestly facing his or her daily task, which is always risk. Big or small, failure appears–to me–as fundamental to creative endeavor. Without it, a writer presents only safe, perhaps popular and even beloved, replicas. Further, should those so-called failures become published: hurray for the writer!
Finally, to the novel: I agree with Sarah Weinman that Susan required a second person voice, although my reasons differ from hers. The second person, for me, shows a person so self-absorbed that she or he might as well speak for everyone. That, I think, is what's off-putting about it. It's possibly even more egotistical than prose where every sentences begins with an "I." Susan's "Mirror Crisis" assumes obliviousness to everything but herself and her grief. As for starting the book with Susan, it was risky, but not much riskier than presenting a novel with four only slightly related protagonists in different time periods.
Yet, Susan's "You aren't feeling like yourself…" might especially appeal to women who rarely feel the universal voice champions their personal lives and perspective.
To me, Susan's second person also announces that here is a woman who is certain of some men's undying devotion. We take her universal word for it that her twin brother couldn't settle down, because he wanted only her.Her faithful partner Nathan stays six years after her refusal to marry him. And while she grieves, which I know first-hand is abominable work, he does all the cooking and cleaning without asking questions.
Further, she — or — you — were the smart and capable twin.  Her father–we learn from his first person dreams during the phase where he's trapped and for all he knows dying–adored and infuriated her.   
Along those lines, I enjoyed and deeply admired Sarah Hall's writing of Susan's sexuality. Maybe I'm reading the wrong novels, but graphic descriptions of a woman's illicit, powerful desires and the frank activity satisfying them do not occur often enough in novels. Certainly not with Hall's exquisite precision and grounded description of pleasure lasting hours, even days after an encounter.
Cliches? The author's job is to make them new. They're cliches to begin with because they're usually true. (Though I agree with Miracle Jones that a Fascist flower girl, a psychic mountain, and a man's foot trapped in blind twins would be fabulous–perhaps that's a story she should write.)
That the four stories intersected at all– father and daughter, mentor painter and student, mentor painter and blind school girl– appealed to me. I believed it because the author wrote it that way and gave us plenty of evidence, whether we get to read Giorgio and Peter's correspondences or not. But the novel's beauty would have shown the characters as new and universal even if no relation existed among them.
Brian Slattery's observation that the characters sounded alike was one I longed to see, because lately I've wondered if the lasting writers, the ones most appreciated, are like movie stars who play "themselves" no matter what the movie. They act like characters we associate closely with who we think they are. They're the stars we recognize and remember.
Hemingway, Flannery O'Connor, Philip Roth, Nabokov, and Philip K. Dick are only a few among a pantheon of writers whose protagonists' tend to speak with the same authorial voice. In dialogue, it's nice to find variation among the characters. But if I'm buying a Philip Roth novel, be it set in Israel, New York, or New Jersey, I want it to ring with his voice, his sentences, and sensibility.
Anna Clark writes:
I waited until this morning, until I turned the final page in How to Paint a Dead Man, to take in your perspectives on the novel. Thank you for sharing your thoughts on it, especially because in many ways they seem to differ from mine. For example, I seem to be unusual in that I very much enjoyed Sarah Hall's book, without qualification.
Here's why.
For me, the uncommon structure of the novel worked not simply because it assumes a gallery-like experience of peering into one frame after another, but because it is the short sections, the different forms of narrations, the four leading characters that we follow, all this serves the movement of the novel. The instability I felt as a reader in the first pages, unclear on what Hall was up to, transformed into suspense: what was Hall up to? Where is this going? In a novel that, as was mentioned, borrows from the artistic forms of landscape and still-life, the intervals we spend with each character before spinning off into another universe serves to maintain the novel's profluence, its forward-motion.
While much has been made of Hall's really fantastic language — she clearly is in love with words, which, frankly, is not a given among contemporary authors — some of you aren't enamored with the fact that Hall's language is consistent, even as she moves among her characters and her landscapes. (Though, to be sure, she does vary her vantage points among first, second, and third-person perspectives). This seems to me to be a wise choice: in a novel where so much is unsettled and atypical, using a more or less consistent language gives the reader something to hold onto as she moves through the text. It keeps the novel from veering into unhelpful fragmentation and absurdity. What's more, the consistent language makes the textual rhymes more apparant; I found myself finishing one section where the images linger on, say, eyes and sight, and I know that that the next section will move to Annette and the stories of her pending blindness. What's more, Hall's language is so good, so striking, that it is an argument for itself. I'm happy to meet it, section after section.
Speaking of seeing the rhymes among the characters' lives–you all have made plain that Girogio teaches Annette and receives letters from Peter; that Peter is Susan's father. But there are other connections that emerged through the novel–revelations that happened not in the traditional ways of plot, but in the the authorial (painterly?) techniques that Hall embraces here: juxtaposition, association, composition.
I realized late in the novel, for example, that Tom, who Susan is having an affair with, is Annette's littlest brother (Tommaso). It's apparent that the bottle Annette leaves on Girogio's grave–returning a gift he'd given to her–is the bottle that Peter steals when he's in Italy and later gives to Susan for her exhibition of artist's relics (though Susan never believes that it's anything but a tall tale). Connections like these are never pushed on the reader, but emerge in the text, like delicate spices in a well-made meal, like the glimmers of movement that we see when we gaze long enough at a nature morte painting.
The novel carries its share of active tension: Peter's horrific accident; Annette haunted by the Bestia, by her bizarre family, and the final incident at Girogio's graveside; Susan's secrets. But it's no secret that this novel rides primarily on its stylistic verve. Suspense doesn't take the usual trappings in How to Paint a Dead Man. But it's there, in surprising costumes, and I thrilled to it.
One further point: it's been mentioned that it seemed strange that we learn so few details about what the art made by these characters actually looks like. Such a lack of details comes in context of a novel that is emphatically a visual one. The characters spend an enormous amount of time looking at things; visual images are thick in Hall's pages. It seems to me that the lack of narration describing Peter's paintings, say, or Susan's photographs is again an appropriate choice. No character is compelled to describe their own art to themselves in excruciating details, though we readers get enough information about their canvases to extrapolate; being visually-oriented, the intersections between the characters' work and their world emerges (for example, through Peter's life in the north country of Cumbria).
How to Paint a Dead Man is a risky novel, and it is carried by Hall's sheer confidence and nerve. Even as it simmers under the prominence of the language and structure, this is a physical, muscular work of fiction–one that dwells on bodies, violence, sex, drugs, drunkenenss, blindness, cancer, pregnancy, movement–and so it is perhaps no surprise that it hits viscerally.
Frances Dinkelspiel writes:
I wanted to explore another aspect of the book: Annette's death at the grave of Giorgio.
 
Throughout Annette's sections I kept dismissing her mother's concerns as the worries of an old-fashioned woman who resisted her daughter's burgeoning sexuality and who used Annette's growing blindness as an excuse to control her daughter. After all, it is (somewhat) clear that Annette's father died while in the presence of his mistress and that they may have been having a sexual encounter at the time of his death. This humiliated his widow, who narrowed her world down to her home, her church (and her tv church) and her children. She clearly only tolerated her brother-in-law and was oblivious to his desire to have a romantic relationship with her.
 
Annette was obviously very beautiful and she navigated her village and the market without fear. But she always kept a vision of the Bestia (beast in Italian) nearby. At first I just dismissed the Bestia as an Italian peasant superstition. He was the devil, obviously, and in Italy in the years after World War II, most Italians still held a close allegiance to the Catholic church.
 
But it turns out that the Bestia was real, and Annette's mother's fears were realized. There was a dark force out there and it was after Annette. This came as a surprise to me. I expected the story of Annette to be one of modernization. After all, her brother Maurizio had such a playful personality and her uncle was experimenting with cross breeding plants and other science experiments. The family had just bought a television, which I had expected would provide Annette with enlightenment about the broader world. (It did not) I thought Annette's story would reflect Italy's transition from a country rooted in superstition and religion to one governed by science and connections to the broader world.
 
Why did Hall kill off Annette, her flower, her innocent protagonist who had few aspirations in life, who pleased Giorgio, a true artist? Why did she make all the fears and superstitions that had surrounded Annette and her mother happen? Was she creating a counterpoint to the very modern Susan who refuses to marry, indulges in an affair with a married man, and seems to be having a child out of wedlock? Was Hall painting the trajectory of women in recent history? I don't have an exact answer and am curious about other people's ideas.
 
The last chapter of Annette is called "The Divine Vision of Annette Tambroni." Annette goes to church, hears the story of Abraham's willingness to sacrifice his son Isaac to show his love to God. Annette vows not to be afraid any more and when the rapist approaches her, she does not run or fight back because "she has made a promise not to be afraid. She has made a contract with God to trust in Him so that He will keep her safe from harm." Her blind obedience to God is her undoing.
 
At the same time, Hall writes this scene as if it is something beautiful, not violent. At least I wasn't jarred by it. The last scene in this section is a dead Annette, her eyesight restored, flying over her village and watching her mother and brothers from afar. She sees a tableaux, a pretty picture as she goes to her death.
Kathleen Maher writes:
Frances, your response to Annette's death touched upon a few things I had decided not to mention but have now supposed I might as well as dare. Readers have referred to this novel, which I found beautiful and stirring if not a straightforward page-turner, as one that lacked a plot and offered scant dialogue, both of which are true.
It's just that literature promotes and discards and rediscovers style the same way bell bottom (call 'em boot cut) blue jeans, capris, loose clothes and then tight ones, short and long skirts create and follow trends. Plot plays big right now. And it's likely that scholars discover connections and layers in novels that may or may not be intended. I think it was Jame Joyce who said whatever patterns people found in "Ulysses" were precisely intended. I use this as an example because I can easily imagine a keen mind spending a life time sifting through Joyce's novel. (Finnegan's Wake, on the other hand, I've never managed to read. And since I can't make sense of it, I wonder if the novel, if not the author, was insane. But that's me and I'm all too aware of my limitations.)
Plotless novels were once in published and praised, if not especially popular. Among the most revered I'd put Milan Kundera (yes, his novel have plots but they're sketchy plots) and the few novels I've read by Camus. Perhaps scholars can find prominent, driving plots in Virginia Woolf's novels, but I can not. Falling along a separate strata there's Peter Handke and Larry Woiwode.
To touch upon a different strata there are countless "road trip" novels, drunk in Mexico novels, and what would you say about Henry Miller or Genet? They write about one episode after another. There's action and dialogue but nothing I'd consider "plot."
Regarding Annette, my sense was: terrible and random things happen. And while her mother did seem hysterical–and in fact didn't face even the predictable challenges a daughter presents, like her period–her fears came true. That doesn't mean she was right. If Annette learned Braille, for instance, if she were allowed to grow toward her adult self, perhaps she would have survived and married and had a daughter she was able to nurture more realistically than her mother treated her.
Of course all of that might have occurred if she continued to sell flowers in the market. But she was beautiful and unprotected there at a time when most young women are in school. The story of Abraham sacrificing his only son may be preparing us. But the old fashioned Catholic religion was in love with death. It was enthralled and obsessed and truly besotted with mortality. One's whole life and its endless frustrations and tribulations would be rewarded in heaven. A young girl who threw herself from a roof and died because a man was approaching her with sexual intentions was considered a martyr. Disabilities–like being blind or lame–were revered. (Mental illnesses not so much unless the Virgin gave you letters.)
So in that vein, Annette's vision is Divine.  A cradle Catholic as we're sometimes called, I knew Annette would die in this novel as soon as I read "The Divine Vision of Annette Tambroni." If the family was to portray Italy's progression into the modern world after WWII, Annette's story would carry another subtitle. Further, to old-line Catholics, death is always exquisite and glorious, even when it occurred in the Roman Coliseum and lions ripped you limb from limb.
Miracle Jones writes:
Kathleen and Frances: Did Annette die? Do the dead dream?  Upon rereading the passage it is still unclear to me.  She chokes; she passes out.  But death?
Let's say she did die.
Annette's death cancels out Susan's pregnancy, just as Peter's escape from the hole cancels out Giorgio's fiendish cancer deathtrap.  Balance!  Even as both elder gentlemen reminisce about women that they could not save, Peter gets a reprieve, returning happily to the woman he is now certain that he loves. Giorgio welcomes death for the same reason. 
Also, if Annette didn't die, then Tommaso and Susan wouldn't have anything in common and they wouldn't be passionately drawn together as incest taboo guilt survivors (dirty feelings killed their siblings), and so there would be no "Yes Baby" at the end.
No, this is a book where everybody gets what they want, whether vision, absolution, rest, or epiphany.  And I think that's why the plotlessness and silence of this book didn't feel so strangling.  These people aren't physically active, but they are certainly mobile in their intellectual and emotional lives.  They are artists, like we all are, and they earn their intellectual and emotional victories in the trenches of their own minds, battling themselves, each one of them winning in the end.  The music soars.
And here's what Hall says about Ulysses, perhaps inviting us to think about Dead Man in the same way:
"After many attempts he has not read past the first twenty pages.  Something in the language has prevented him, he says.  But on the last attempt a revelation!  The text is a doorway, or a device for transporting the mind.  In itself it resists interpretation, but instead affords the opportunity to think in tandem, like a man riding a bicycle while aboard a ship.  Peter thinks this is what Joyce intended.  It will not make him unhappy to be oblivious to the narrative until the book's very end, he writes, for he is sure to enlighten his mind in other ways.

"Such interesting philosophy!  My advice would be to concentrate."
Brian: I'm with you on "fidgety" while reading this book.  I read it mainly while riding back and forth to work every day on the train, and I resisted it every single time I made myself crack it open, looking around everywhere for some girl to flirt with instead.  But once I was engaged, like you said, the language was pure pleasure, like chocolate melting on the tongue.  Of course, as with real chocolate, if you eat too much the dry bitterness hits the back of your throat and it turns sour. This book must be read in doses, with time in between to reflect and savor.  Several times I found myself deeply impressed by a particular phrase or word choice, raising an eyebrow, uncrossing my legs, and leaning forward — possibly sticking my furrowed brow in a straphanger's crotch.  Hall is a surgeon with image and syntax.  Sometimes its rough to be American, to have your own tongue weighed down by so many awkward marbles. 
Also, NB: I think members of my generation listen to The Beatles and Led Zeppelin as if it is church music.  People who are really into that stuff are not to be trusted.  They will probably try to get you to come back to their place — not for sex or drugs — but to debate one of the seven deeply important books they own, like Atlas Shrugged, Gravity's Rainbow, or Battlefield Earth. 
"Dad Rock" is quaint enough.  It takes you back to childhood innocence, even though all the lyrics are about drugs and fucking (also like church music).  There is the smell of incense, perhaps even a buried memory of a bearded man in a robe doing something obscene.  But I don't think too many of us are going around ignoring the modern equivalents.  Instead, we find it fascinating that once upon a time "pop" could be so musically challenging.  We figure that back then the people who were craving American Idol must have been alienated and pissed off all the time; mad as hell at the whole dang world.  Hence: war.
Peggy: I can't really disagree with you about anything, and I think I would mistrust this book too if I had to read a book about the glorious insights one gains while working in a coffee shop.  The crema!  The porcelain!  The rich and ineffable foam! 
As a painter and artist, I'm sure painting and art have been thoroughly demystified for you, and a book that traffics in such broad stereotypes ought to be truly villainous to your taste.
I can't really speak to any of your criticisms, except to say that the language of art criticism is the closest thing the modern world has to  spiritual philosophy.  We want our artists to be wise and impenetrable.  We want our artists to be avatars of what they produce.  This piece of fiction presents a world where such a longing for "authenticity" is true.  A fictional world.  And this world is illuminating for a little while, even if deeply false.