Chazz Palminteri and Robert Celestino both appeared on The Bat Segundo Show #259.
Chazz Palminteri is the star of Yonkers Joe. Robert Celestino is the writer and director of Yonkers Joe. The film opens in theaters on January 9, 2009.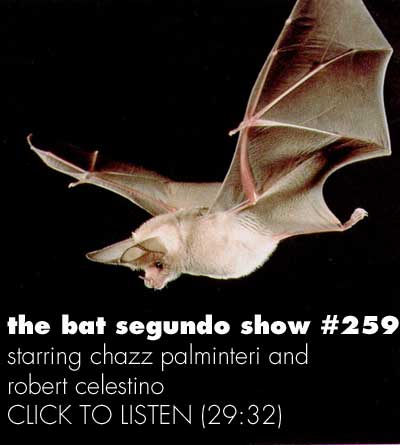 Condition of Mr. Segundo: Fleeing the scene to avoid "coming together" with the imposing Mr. Palminteri.
Guests: Chazz Palminteri and Robert Celestino
Subjects Discussed: Robert Mitchum's theory of the actor merging into the landscape, cinematic tempo, research for Yonkers Joe, eye contact, the script as the authoritative text, script embellishments from actors, overpreparation, performance in relation to camera placement, "artistic differences" with directors, the thespic advantages of wardrobe, playing an entire scene with a newspaper under your arm, the national revival of A Bronx Tour, the future of theater in an economic crisis, wasted talent, whether the casino heist genre now requires an unusual secondary plot, balancing intuitive insights about human behavior and cinematic reality, the inability for most people to observe mechanics in action, the distinctions between con men and mechanics, how Celestino was able to film in casinos, advancing the narrative while sacrificing believability, concocting the big score, the qualities of casino dice, the eleventh-hour casting of Christine Lahti, keeping symbols in the background, symmetrical semiotics, layering visual elements, and establishing the tell signs among the actors.
EXCERPT FROM SHOW:
Correspondent: Going back to the issue of preparation, perhaps you can talk about it in light of this particular movie. I'm curious if there is such a thing as overpreparation for you. For a performance like this, for a performance elsewhere. Where if you plan something too much, then you're going to lose the spontaneity, you're going to lose the naturalness of human behavior, and the like.
Palminteri: Right.
Correspondent: Has this been a scenario with you? Have you had to…?
Palminteri: That never happened to me. Because I don't overplan things. I plan it. I know where I'm going. I have a road map. Okay, and then I'm able to change that roadmap if I have to. You have to. Because you meet with the director, and you meet with the other actors. And all of a sudden, you get on the set and it's not like you thought what it was going to be. It changes. For some reason, an actor does something else and it doesn't match what you felt what you should do. Alright, now we got to talk about this now. Is this going to work? Maybe it works better or maybe it works worse. So if you think that your way might still be better, that's when you have to talk with the director, and say, "Well, I'm feeling this way." And that's why sometimes people leave movies. There are artistic differences. It doesn't work. I usually try and make it work. I hope I can.
Correspondent: Are there such situations in which you've felt hamstrung by a particular director's decision? Or do you simply work within those particular confines?
Palminteri: I've always been able to work with directors who respect my opinion. And no director wants an actor to be uncomfortable.
Correspondent: Sure.
Palminteri: "To be uncomfortable." I mean, once you say those words to a director, "I'm just not feeling comfortable here," then he's willing to listen to anything you've got to say. I mean, one thing, I'm a director. You know, I'm directing movies. If an actor's telling me he's uncomfortable, I've got to make him comfortable. No matter what.
* * *
Celestino: I don't know of too many filmmakers who get to shoot in casinos. Because casinos are not in the business of making movies. They're in the business of making money. So we were very fortunate, as some of our investors were casino owners. So not only did we get to shoot in the casinos, but we got to shoot it during the day. And they would rope off a section to us. And they really opened up everything to us. There's five people who work in a casino, who are allowed into the surveillance rooms. So we were allowed to go into the surveillance rooms just to look around. We didn't actually shoot in there. We built that set. But we did match it identical to what we'd seen. And also, they're not ever going to bring a suspected mechanic up into the surveillance room. So what they do have is an outer room, where they would show somebody something in case there was a question. Like they did in Yonkers Joe. But the surveillance room was actually in another room where Yonkers Joe got to take a peek at.
Correspondent: Some suspension here to move the plot. Again, this goes back to the other question about how much you stray from reality. In this case, certainly, you had to in service of the narrative. But perhaps when you were writing the script, were there questions that you were asking? "Well, okay, I need to move the narrative along. So there's a tradeoff here." I mean, what criteria was here? Okay, I have to advance the narrative. But there's this tradeoff in believability. Was this an issue when you were writing the script?
Celestino: Well, that's always a balancing act. Ironically, in this script and movie, it really didn't come about that much. Pretty much, everything that happens in the movie pretty much can happen. You know, the thing at the end and all that. That all can really happen. In fact, when the security people — the surveillance people — were reading the script, they said that when this movie comes out, casinos will probably start putting blacklight gel in their dice. And that was where I had to reinvent a bit. Because loaded dice are very easy to see. That's why they make the dice clear. So you can see the loads in them. But if you have something in them where you don't have to look at the dice, like blacklight gel, then there's no reason to even look.
BSS #259: Chazz Palminteri and Robert Celestino (Download MP3)
This text will be replaced