EDITOR'S NOTE: On April 5, 2013, I set out on a twenty-three mile "trial walk" from Staten Island, New York to West Orange, New Jersey, to serve as a preview for what I plan to generate on a regular basis with Ed Walks, a 3,000 mile cross-country journey from Brooklyn to San Francisco scheduled to start on May 15, 2013. This was the third of three trial walks for the project. (This is part one of a two part report.) The collected trial walks represent only a small fraction of what will be created during the national walk. And if we don't make it to our fundraising goal, then a national investigation of the people, places, and sounds of this country won't happen. But your financial assistance can ensure that we can continue the Ed Walks project across twelve states over six months. We have 15 days left in our Indiegogo campaign to make the national walk happen. If you would like to see more adventures carried out over the course of six months, please donate to the project. And if you can't donate, please spread the word to others who can. Thank you!
Other Trial Walks:
1. A Walk from Manhattan to Sleepy Hollow (Full Report)
2. A Walk from Brooklyn to Garden City (Part One and Part Two)
3. A Walk from Staten Island to Edison Park (Part Two)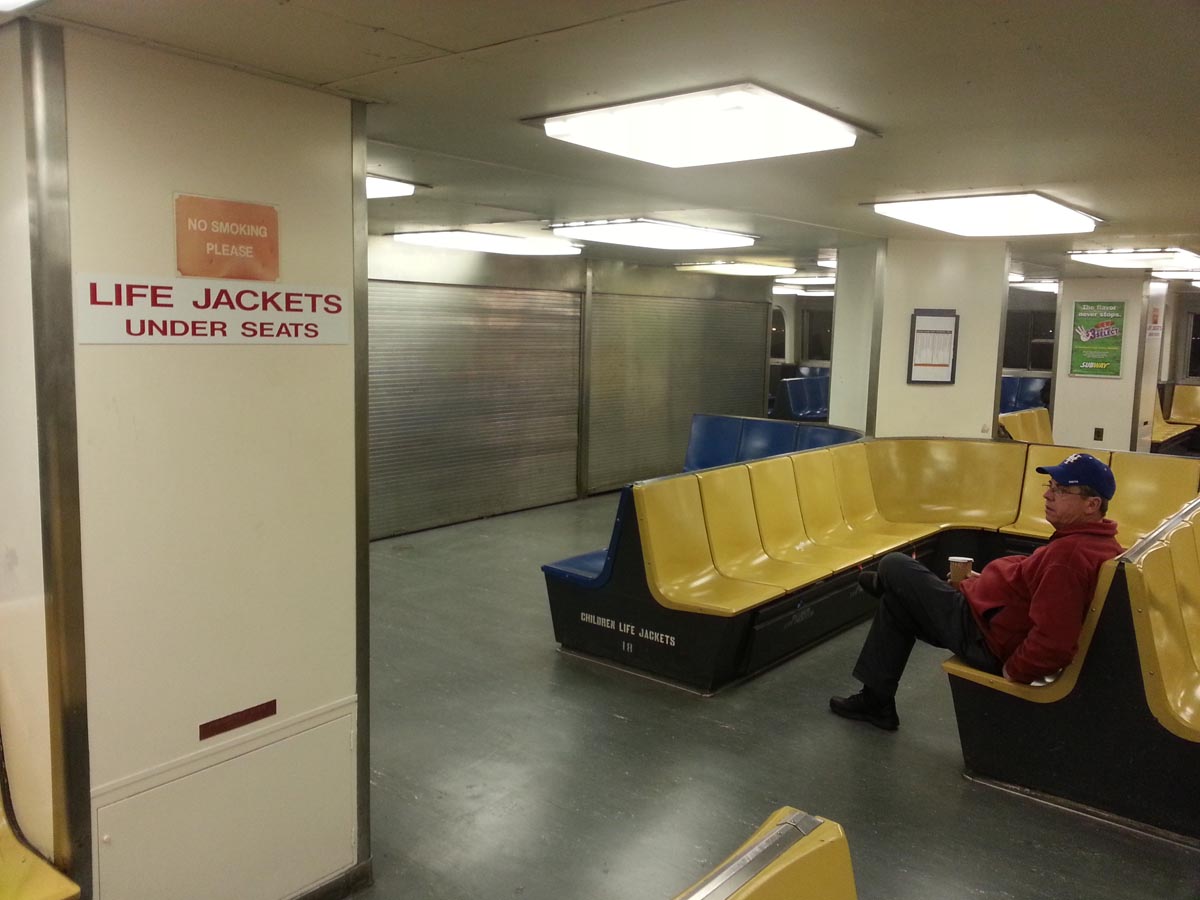 The Staten Island Ferry is the only real free ride you can catch out of Manhattan and it has stayed this way because too many people feel contrite about the way New York was designed. The city once had the happy idea of extending the BMT Fourth Avenue Line from Bay Ridge to The Narrows. The tunnel got as far as 45 meters before Mayor John Hylan, a principled man who fought against "invisible government" and interests and damn near anyone who stood against the people, put the kibosh on interborough interconnection just before the Great Depression. Despite the Verrazano-Narrows's long span and double deck suspension, Robert Moses never considered the people when conceiving the bridge. The cars mattered first.
In 1954, The New Yorker's Paul Brodeur was able to cross the bridge on foot before it opened. He described the Coney Island parachute jump as "a tower of only miniscule proportions," Staten Island's "rickety wooden piers, stretched for miles," and "a gray sea that was becoming grayer in the fading light." But these days, you can't walk the bridge outside of marathons and bike tours and, despite vociferous demand, there won't be a southwest pedestrian passage anytime soon.
So if you have two legs and you burn with an insatiable fire that could take you to the ends of the earth under the right circumstances, then the only way into Staten Island from Manhattan or Brooklyn is to board a 3,335 ton, triple-deck boat ping-ponging from one terminal to another all day at a speed of 16 knots.

At six in the morning, the MV Andrew J. Barberi is a flouncing platform sashaying across the Upper Bay, ideal for the soporific. Brave bodies flatten their forms across plentiful seats. They use backpacks for pillows and ignore the soft squares shooting flickering light from above: the squares reminding them of white billowy rectangles beckoning from bedrooms, awaiting them on shore. Half the passengers who remain awake grip paper cups like asthmatics clasping onto inhalers just before an attack. It's too early in the day to call or text or chat. So those who peer down at their phones guide virtual cars along digital raceways or maneuver hepping sprinters through tropical obstacles in Treasure Run 2. The stunning view outside is now too rote. The phoneless stretch the ends of newspapers and tighten magazines the way their mothers and fathers did. Crepuscular readers on the Barberi tend to stick with paper. And it's good to know that a few 20th century traditions remain alive.
I see a thirtysomething's frizzy chignon burst wild and unrepentant with flaxen highlights from a slick brown jungle, her front curls dangling like fine wires along the left side of her face. As she talks with her friend, I know this is the end of a happening evening.
This is near perfect acclimation before Saint George Terminal, where I am to meet a young reporter named Andres David Lopez, who has heard about the walk and has driven all the way out from Harlem to meet me at an ungodly hour. This is merely the beginning of an unanticipated adventure.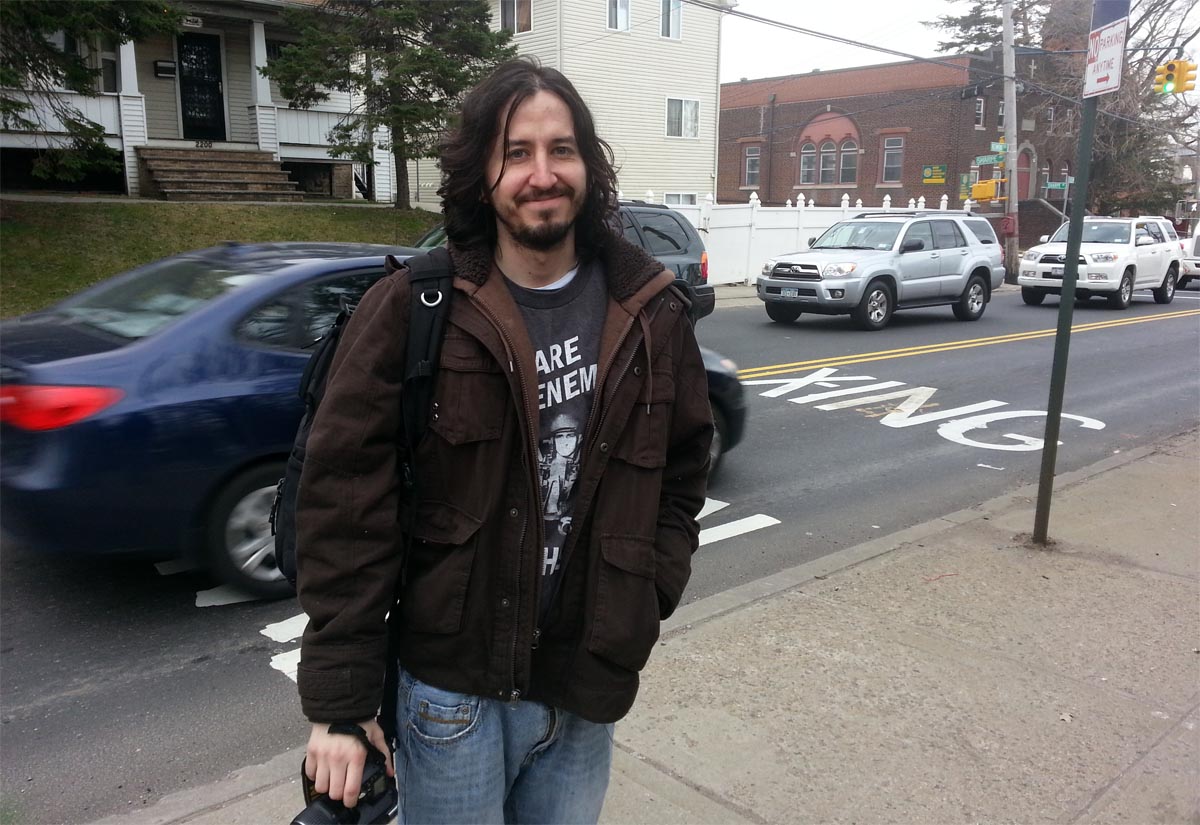 [haiku url="http://www.edrants.com/_mp3/tw3-a.mp3″ title="Conversation with Andres" ]
Andres is a young man from South Florida: the first in his family to attend Columbia University and the first reporter to accompany me on one of my long walks. What neither of us know as the sun purrs into the promising expanse of a bluing sky is that we will spend most of the next nine miles walking together.
There's a brief break just before eight when Andres, who has budgeted a few hours to talk with me but who ends up spending a few more, realizes that he has to reclaim his car before the baleful Staten Island parking meters begin their profitable drain on reticules and wallets. He has to hike back to Saint George to advance his car to a safe spot. He does this. And we triangulate by text and he stays on the trail with me. I see immediately that Andres is a highly dedicated reporter in the making: one that any outlet would be proud to have on its roster. "Just don't become an aggregator, man," I implore him. "That way is the way of demons."
He assures me that aggregation isn't in the cards, although I do hope that robust outlets will be around to ensure that thorough guys like Andres can deepen their craft.
Andres has worked very hard to get where he is today. He's hanging with me because he's writing a piece on people who walk across the country. And he's really going above and beyond the call of duty. I very much hope that the Indiegogo campaign will be fully funded, if only so that Andres can get that happy ending securing a grand narrative arc for his piece. He's easygoing enough to get me to gush about Guy Debord and John Steinbeck and Will Self, in large part because he makes me feel responsible in confessing all antecedents for this project. He impresses the hell out of me when he tells me that he's chatted with Peter Jenkins, the mack daddy of long walks.
I ask Andres why he went into journalism.
"I didn't know what I wanted to be coming out of high school," he said.
He had a lost period for a bit, but always enjoyed reading and writing. So he joined the Navy.
"I thought I'd get some adventure and see the world. And I got accepted into the Nuclear Power Program."
This was a rather colossal commitment: a six year contract that was especially intense. Andres spent two years living in South Carolina in a college setting taking essay exams on the basics of radiation, electricity, submarines, and other lightweight topics along these lines. The program gave Andres much-needed discipline, but he didn't quite see a future in nuclear power.
"I had to decide, 'Well, if you don't want to be in the Navy for the rest of your life, what do you want to do for the rest of your life?' And I decided that I wanted to be a journalist for a lot of reasons. Because it allows me to write and improve my writing every day. I'm constantly finding stories and trying to share them. I love the idea that I'm going to have deadlines every day."
Andres was also drawn to the public service component. He sees journalism as a noble calling, as a way of changing the world for the better and an essential part of democracy. But the big question I had was why Andres was interested in walkers. Part of this has to do with Andres taking a class which deals in human interest stories, that involves learning how to synthesize a massive story for a national wire service. He's very well aware, like most reporters, that ever diminishing budgets prevent journalists from flying out to necessary places. But maybe if the two of us keep walking, we'll end up running into a story. This is precisely what happens several times on Friday.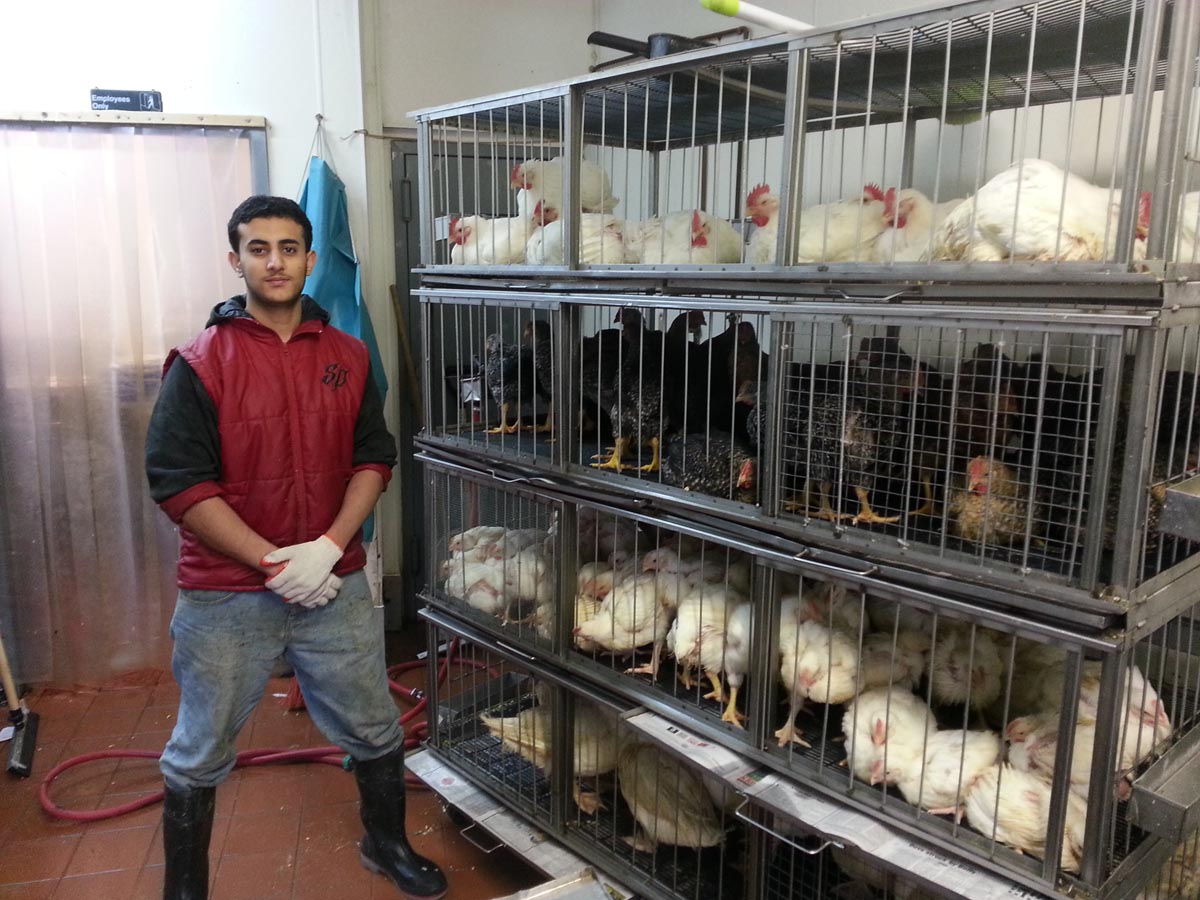 [haiku url="http://www.edrants.com/_mp3/tw3-b.mp3″ title="Conversation with Adam" ]
I have never set foot inside a live poultry market in my life, but something emboldens me in Staten Island.
Me: Adam, nice to meet you. So how long have you been in the poultry market business? How does one get into this line?
Adam: Well, right now, I've been here for about two months.
Me: Two months? Oh wow. So you've been an experienced butcher?
Adam: Well, just a little bit, yeah.
Me: Okay.
Adam: I'm not really up at the top. But I'm not planning on staying here long. This is just a part-time job.
Me: A part-time job.
Adam: Yeah.
Me: Could you do this full-time or it is just…?
Adam: Not really. No.
Me: So what's it like on a day-to-day basis to do this job?
Adam: Well, I mean, it's not bad. It's good money and it's — I mean, it's hard work. You gotta be here in the morning. You gotta clean. And then, you know, you work — it's ten hour shifts. But it's got to be an hour of cleaning from before and an hour of cleaning after. So it's very hard.
Me: Wow. Cleaning is the hardest part?
Adam: No, no. Cleaning is the easiest part. Killing is the hardest part.
Me: Killing is the hardest part. But do you get used to the killing after a while? I mean…
Adam: Yeah, you get used to it.
Me: What? How do you deal with that? Do you have nightmares at all?
[A chicken flutters in its cage.]
Me: Whoa!
Adam: No, no nightmares.
Me: No nightmares?
Adam: No, not really.
Me: No guilty conscience?
Adam: I mean, it's not like I'm killing humans or anything. It's chickens. But it's food.
Me: It's food. So have you had any kind of moral qualms out of curiosity?
Adam: Nah.
Me: Nothing?
Adam: Nothing. It's not bad. You get used to it. Sometimes it's fun. And you get to meet a lot of people. You get to talk with them. You get to chill with them. It's cool.
Me: Do people ever crack on this job?
Adam: Uh, some people do, yeah. Some people even go and kill. Themselves. They try it out.
Me: So this is like a testing before they came a real homicidal maniac?
Adam: Yeah. Some people do actually test it, yeah. And they're like — well, some people like it actually. They're like, "Oh, this is fun."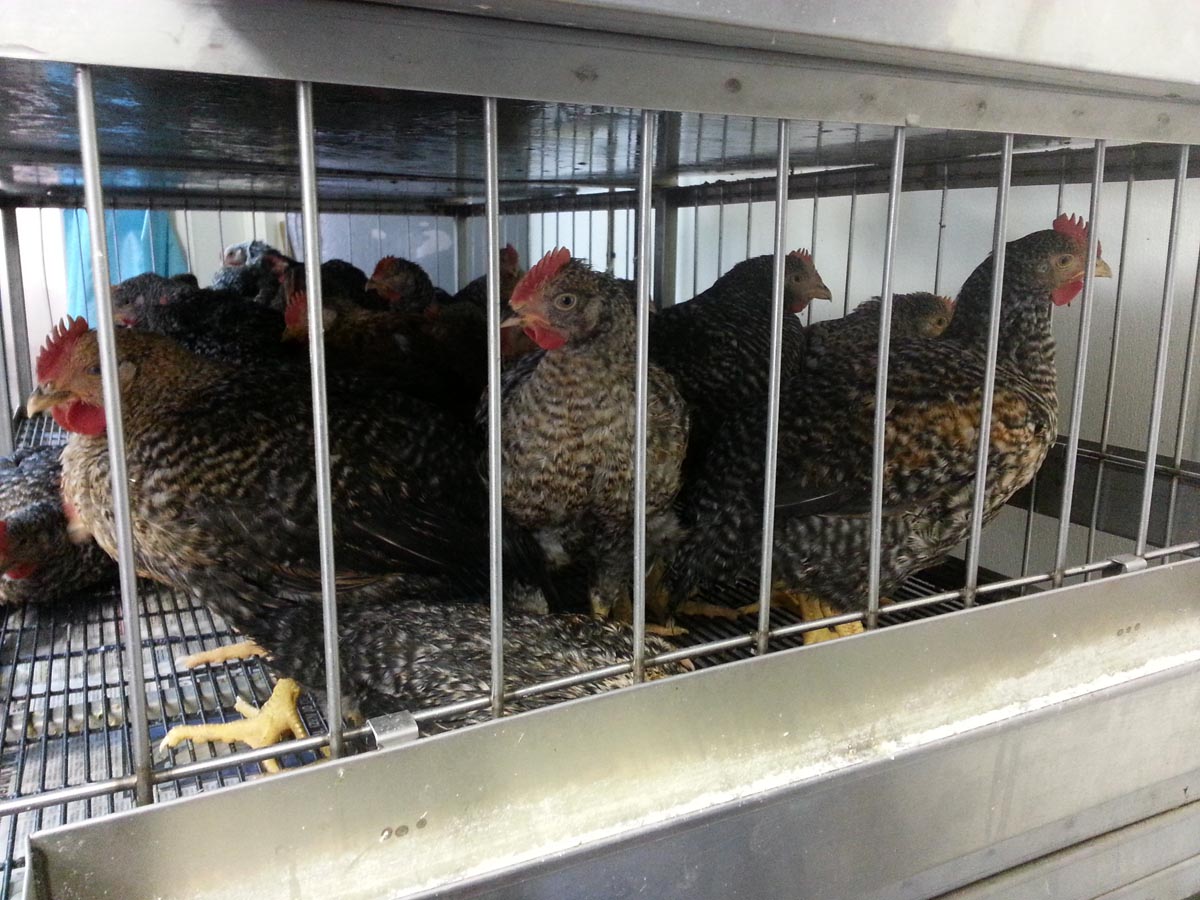 Me: So what actually happens? What is the process of killing a chicken?
Adam: Well, when you kill it, you've got to let the drain blood — I mean, the blood drain out. And then after that, you've got to clean it. You've got to take the feathers out. So we have a machine for that. That takes the feathers out. And after that, it's — you know, it's just just kind of from the inside. And if people want it cut up and whole, we just give it to them. Whatever they want. And it's a lot better than what they sell in the supermarket. Cause it's all fresh here. It's not like what they sell in the supermarket. Different taste. Plus, it's cheap too.
Me: Do you get any special requests? Any particular parts? Or any special butchering techniques or anything?
Adam: No. Well, like I said, some people, they have their own style of cutting in pieces. Some people want it in four pieces. It all depends on how they cook it. I'm not much of a cooking expert. But, you know, I do whatever they tell me to do. So some people want to cut it small. I think they use it for curry or stew. That's how I give it to them. Four pieces. Grilled. Baked. That's how I do it for them.
Me: How many clients do you have? How many people actually rely on this place?
Adam: Well, about a day, I'd say there's over a hundred maybe.
Me: Oh, a hundred a day.
Adam: Yeah.
Me: Like a hundred chickens? Or a hundred orders?
Adam: No. Over a hundred people that come in.
Me: Oh, I see.
Adam: Chickens. This is how many chickens we kill and we have trucks coming in later.
Me: So all the chickens that are here are going to be dead by the end of the day.
Adam: Well, hopefully, yeah…
Me: Hopefully!
Adam: Well, I mean, usually — about three quarters of this is gone, yeah.
Me: What kind of trouble do the chickens give you?
Adam: You see my arms?
[Adam rolls up his sleeve. There are several scratch marks he has received from the chickens. I ask Adam later if I can photograph these marks, but he says he doesn't want to. But he is kind enough to let me photograph him in front of the chickens.]
Me: Oh my.
Adam: That's the only trouble.
Me: Yeah. Scrapes on the arm here.
Adam: Only scratches. Other than that, they are no trouble at all. But, you know, it's work. You've got to make money one way or the other.
Read Part Two! Adventures across the Bayonne Bridge, a women's underwear shop, New Jersey solar panels, and Edison Park!