Adrian Tomine appeared on The Bat Segundo Show #382. He is most recently the author of Scenes from an Impending Marriage.
Listen: Play in new window | Download
Condition of Mr. Segundo: Attempting to reconcile the impending with illustrations depicting events from years ago.
Author: Adrian Tomine
Subjects Discussed: Doing time in Sacramento, veiling a personal experience with a sex change, which of Tomine's characters is least like him, the liberation that comes in fabrication, scratched out names and Victorian literature, the original small audiences for Scenes and 32 Stories, the father's fund, taking criticisms to heart, the drawbacks of working in the same realist vein, Tomine's wife as the "first audience," the artist's fragile ego, the influence of printed literature and storytelling upon art, humbling versions of inspiration, Tomine's degrees of aspiration and ambition, living a life in service to the drawing, facing the world, the "strenuous" exigencies of cartoonists, drawing panels without decor, Tomine's perfectionist qualities, the freedom in pursuing work that isn't going to be reviewed, feeling highly scrutinized, the pleasure in publishing harsh letters, the look of the ranger, using the fewest lines to get the maximum amount of detail, settling upon the three panel approach, maintaining a private style in secret scrapbooks, varying levels of creative insulation from the public, the very low frequency of sound words, the tongue licking in "Alter Ego," seeing external details that other characters cannot, the grotesque reality of Chris Ware's furry cats, the number of people who read books in Tomine's New Yorker illustrations, the Venn diagram between 1990s subcultures and digital culture, disappearing subcultures, cartoonists who detest hippie and hipster culture, gesture and look, Alison Bechdel's elaborate photographic process, and the pursuit of "realism" in an "unreal" medium.
EXCERPT FROM SHOW: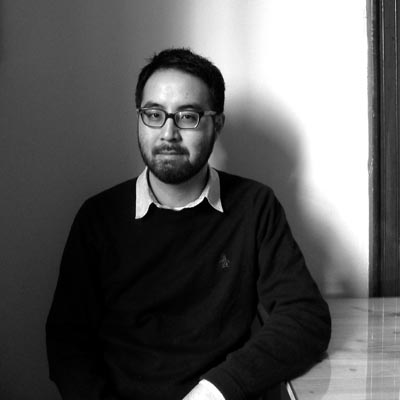 Correspondent: I wanted to get into the ineluctable autobiographical angle through a different mechanism. Interviewers, critics — they've all said, "Oh, well, Tomine is totally autobiographical." But here, you are tempting fate again with the subtitle of the book: "prenuptial memoir."
Tomine: Right.
Correspondent: You mentioned in the introduction to 32 Stories that you "learned the useful trick of taking a personal experience and veiling it with a sex change or two."
Tomine: Right.
Correspondent: So we have to talk about this. But I'm going to ask you: Which of your characters is least like you? How much of Scenes [From an Impending Marriage] emerged out of your reality? Or is there some liberation, so to speak, in the fabrication?
Tomine: Oh completely. I mean, everybody has been focusing on the autobiographical nature of this book and I think some of the promotional materials are talking about how it's such a personal work or something. But I think in truth, in some ways — well, I wouldn't say the least personal, but it's certainly no more personal than the other books. And I think that definitely in the fictional stories, I feel a lot of the freedom that you refer to. And the flip side to that is there's an inhibition that comes along with drawing yourself as the main character. And I think this book, this current one, is all definitely drawn from real experience, but very carefully edited and selected.
Correspondent: Yeah. Starting with the first story, where we see scratched out words of names and places and the like. Which, to my mind, didn't necessarily mean privacy, but possibly meant an ode to the Victorian literature, where you have the first letter and the line long after that.
Tomine: Yeah. And also I think that this was the first time I just embraced the idea that this would be intended for as wide of an audience as possible. So it set up the ending, where I have the one swear word of the book scratched out too. So it doesn't quite jump out as much as it would otherwise.
Correspondent: So wait a minute. I understood that this started out as something to be disseminated to wedding guests.
Tomine: Yes, that's right.
Correspondent: Okay. So was it always intended for public consumption?
Tomine: No.
Correspondent: No.
Tomine: No. The original version that was slimmer. There were fewer pages. It was basically just Xeroxed and assembled. And it was meant to just be given out at the wedding. So the only audience was really going to be our close friends and family.
Correspondent: Well, this is interesting. Because 32 Stories came back in a third life, I suppose, by having that box of minicomics. And it seemed to me from the introduction that it also came about under a certain amount of duress. I'm wondering if people have to push you or kick you into getting things published these days. How does this come about?
Tomine: Well, I think that if someone really wanted to read between the lines and investigate. The dedication of this book explains a lot about why it's now in stores. Because it's dedicated to Nora, who's my one-year-old daughter.
Correspondent: Aha! The father's fund.
Tomine: Yeah, exactly. We know a lot of people are confused. They say that in the book you say your wife's name is Sarah. Who's this Nora that this book is dedicated to?
Correspondent: Your mistress, I thought.
Tomine: (laughs) Right. My Irish mistress.
Correspondent: (laughs) Yes.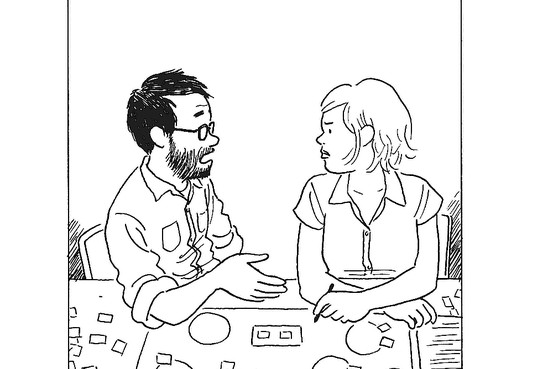 Tomine: Yeah, my wife was actually joking about that and saying, "Nobody ever has an Irish mistress." I mean, there were a lot of reasons that went into the decision to actually publish it. But if I'm honest, one of them would definitely be just a bit of that new father panic of "I've got a life that I'm responsible for other than mine now." So that was part of the thought process. At the same time, there was also the element of just how off the beaten path this book was for me. And that was appealing. Because when I finished my previous book, and digested a lot of the reviews and the response, that it was really clear to me that whatever it is that I publish next had to be pretty different. I think people had their fill of that specific tone and that meticulous realistic style of drawing. I don't think it was — well, I take — the criticisms of that I took to heart. Not that it was poorly done, but that I'd been putting out a lot of that in that same vein for a number of years. So I didn't really have a plan of what I was going to do next. But then it was kind of a relief to me when I realized that I basically had a complete book just sitting in my sketchbook. And it was as dramatic of a change as I was looking for.
Correspondent: Well, we've brought up a number of things just in the first few minutes.
Tomine: Right. I derailed you.
Correspondent: No, no. It's great. I love this. Working on art for money. Working on art for audience response. And then simultaneously mining from your own personal life to generate narratives that often take an immense amount of time. In the case of Shortcomings, four years. So this leads me to wonder whether there's possibly a double-edged sword here, if you are revolving your creative process around what the audience is telling you. Clearly, you still read reviews.
Tomine: Yeah.
Correspondent: Clearly, there is an interest to stay in this business. Obviously. But on the other hand, the fact that this book, this latest volume, came from a safe place. Where you were almost buffered by the possibility of critics dissecting every little aspect of your work. I mean, how does this work? How do you gravitate between the two? Or is it all one unified theory here? So to speak.
Tomine: No. I think you touched on a lot of the things that were in my mind really. Because this wedding book was definitely the most breezy and loose and — a word that's never applied to my work, but — fun. And I think it was because of what you're talking about. The idea that it basically wasn't meant to be published. And that no one but a handful of people that I knew and loved would be seeing it. And really, even though I knew the people at the wedding would be seeing it, the only real audience I had in mind when I was creating it was my wife, Sarah. A lot of it was just a question of not "Is this going to be a great strip?" or "Is this going to be beautifully drawn?" or anything like that. But just "Is this going to make her chuckle at the end of the day?"
Correspondent: So really she's your first audience.
Tomine: For this, especially.
Correspondent: Do you see that being — she's going to be your future audience? Her and Nora perhaps?
Tomine: Yeah.
Correspondent: I mean, how do you insulate yourself from the constant probing?
Tomine: Well, I mean, whether I like it or not, she's going to be my first audience. Just as the nature of working at home, and her curiosity. When she scrolls through my studio each day, she does take a look at what I'm working on. But at least so far, it's been a real asset to me. Because she's more well-read than I am. She used to work in publishing. And she has editing experience. She also, along with that, knows the fine art of dealing with the fragile ego of the writer or the artist. And she also just has a really good sense of humor. And I think that she's, if anything, encouraged me over the years to try and tap into that a little bit more in my work.
(Image: Sarah Brennan)
The Bat Segundo Show #382: Adrian Tomine (Download MP3)
This text will be replaced