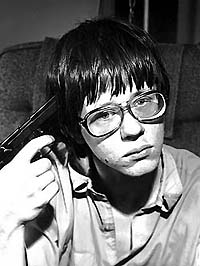 National Book Award-winning writer William T. Vollmann stunned the Penguin offices when he submitted a 22-page children's book to Viking editor Paul Slovak this morning.
"It's the shortest manuscript I've ever seen from Bill," said Slovak, who also told reporters that editing this "would be a breeze."
The book, entitled Shooting Guns at the Gnus, is also illustrated by Vollmann. Vollmann hoped that the book would encourage young children to start firing guns early, so that they could get a sense of "what it means to be free" at a very early age.
Parents bristled at Vollmann's plans, claiming that he was taking advantage of his literary reputation to sully the pristine nature of the children's book market. One organization, The Society for Safe Books, plans to picket the Penguin offices this morning, demanding that Penguin not publish anything even remotely offensive. None of the activists, however, had read the book in question.