Vincent Cassel and Rachel Shukert both appeared on The Bat Segundo Show #351. Mr. Cassel stars in Mesrine: Killer Instinct, which opens in limited release on August 27, 2010, followed by Mesrine: Public Enemy No. 1 on September 3, 2010. Ms. Shukert is most recently the author of Everything is Going to Be Just Great and previously appeared on Show #217. (The true Shukert completist can also listen to Ms. Shukert on Show #173, where she appears in a group discussion on sex writing.)
Listen: Play in new window | Download
Condition of Mr. Segundo: Dodging persuasive serial killers and angry Swiss listeners.
Guests: Vincent Cassel and Rachel Shukert
Subjects Discussed: [List forthcoming]
EXCERPTS FROM SHOW: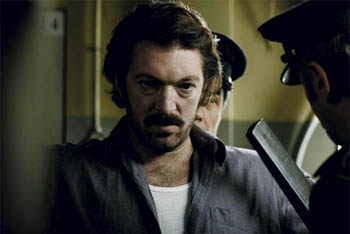 Correspodnent: Does movement offer a more creative place to establish a character? More so than the backstory, research, or anything?
Cassel: Of course it does. I mean, look, you walk down the street. You see somebody that you've never met. And you see him walking. You just see his back. And you already can say a lot of things about him. Is he drunk? Is he somebody sad? Happy? What kind of energy he has. You know, all that.
Correspondent: I'm glad you mentioned that you use different movement. Because I have noticed that about your performances. I mean, Mesrine and your role in Irreversible are two completely different movements. What do you do to prevent yourself from repeating a particular gait? Or a particular walk? Or a particular way of entering a room? Or a way of inhabiting an atmosphere or what not? Do you worry about this? Repeating yourself for each character?
Cassel: No, of course. I mean, I think it's important that you not do twice the same. But the main reason is that otherwise I get bored. So what I do is that — I'm very instinctive, I have to say. It's not really something I think of in a very precise way. But I can feel if it's something — actually sometimes, I start a scene and I have this feeling of deja vu. And sometimes I don't really understand where it comes from. But that's enough for me to just [snap] switch to something else and try something else on the moment, and then think about it. Afterwards, I understand. "Oh yeah. I did this on that scene from that movie." But at the time, on the moment, I don't really analyze. It's just a question of feeling. Like most of acting is really.
Correspondent: Have you ever had a situation where an entire scene needed to be altered because you were physically adopting some cliche that you couldn't quite identify? But it just didn't feel right.
Cassel: Very much so. Especially in a movie like Mesrine. Because I'm so close to Jean-François Richet, the director. We were literally: get on the set in the morning. We would try. And suddenly something is wrong. Let's change everything. Because I think acting and moviemaking in general — maybe more for an actor than for a director — it has to be organic. Whatever that word means. You don't have too much time to think on a movie. It's very much about the acting and being involved physically in what you do. That's the only way to see if it's real or not really. So, yes, you try things. It's about trying and finding solutions.
* * *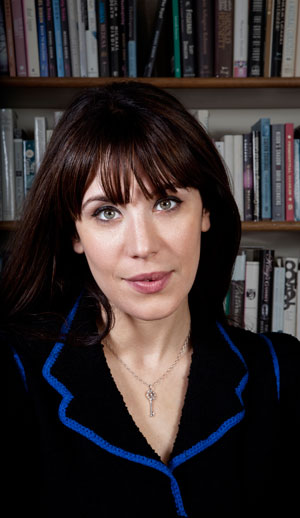 Correspondent: You note of [your future husband] Ben that, as you watched him calmly rub soap into his hands by the communal sink, you realized that you had known all along that you would see him again. I'm wondering what it is about hand hygiene that serves as your personal madeleine.
Shukert: (laughs) I don't know. I remember that moment. It was very calm. And he didn't seem surprised to see me. And I had been thinking about him and having this sense that we would bump into each other again. I think it was seeing him doing something that was very mundane. We were at home together. Even like moments now. It felt almost as if we had skipped in time and we were standing in our own bathroom while he was brushing his teeth and I was trying to put my makeup on. Do you know what I mean? It felt very familiar in that sense. It's sort of an instance of fact seeing somebody washing themselves in some way or grooming.
Correspondent: So really any guy could have come along, if they had done any remotely regular gesture at that point. They could have swept you off your feet!
Shukert: I don't know. I was definitely in a different place. (laughs)
Correspondent: The title Everything is Going to Be Great comes from a sentiment expressed by Pete — a guy with a girlfriend who you got involved with and who had a problem of hitting on other women in restaurants. Including you. You became involved with him, justified your involvement by noting a Dutch study where a woman's neural activity at the moment of climax is equal to that of someone in a vegetative state. I must go ahead and ask. Surely hindsight offers the basis of 20/20. Lust may indeed make us do stupid things. But there's often another reason why we're driven to the irrational. So I'm wondering why you're content to throw away this particular introspection.
Shukert: But I feel that it's really describing that moment more. I feel like later, in the exploration of that relationship, other reasons come to light. The fact that we were both — and I feel that this is there in the book — that sort of explains why I couldn't slap him across the face in that moment. Do you know what I mean? But as far as getting involved with him later, we were both kind of lost. We were both adrift. I was, at the time, really lonely. And things were not working out the way that they were supposed to. I think I mentioned how he suddenly gauged escape to this adventure that he was supposed to be having. He made it feel like there was a point, that I was here to fall in love and have this incredible adventure. And it turned it into a narrative. It turned it into a story, as opposed to this aimless time-waster. And I feel that if I had been here, if I had been on my home turf, I don't think that we would have gotten involved. I feel that being abroad, you are off your center of balance. Away from the practical things that you really think about. You're removed from all of that. And there were so many things I didn't have to deal with.
The Bat Segundo Show #351: Vincent Cassel & Rachel Shukert II (Download MP3)
This text will be replaced