Dave Eggers's Zeitoun was one of the rare books that managed to turn an Entertainment Weekly review and a lengthy Times-Picayune profile into advertisements for a charitable foundation. The Zeitoun Foundation is an organization ostensibly intended as grantor for post-Katrina rebuilding initiatives. "All author proceeds from this book go to the Zeitoun Foundation," reads the beginning of a clearly stated note at the end of Zeitoun, which is followed by a list of nonprofit organizations that will receive the proceeds.
"From the beginning, I told them I wouldn't be paid and I would not benefit from their story in any material way," said Eggers in a 2009 interview. "The Zeitoun Foundation will be a lean organization, one that simply acts as a conduit to donate proceeds from the book to specific charities, including the Muslim American Society, Islamic Relief and Rebuilding Together, which helps return evacuees to their homes in New Orleans. Tangible and beneficial results can be achieved, which allows the Zeitouns to feel that something good came from their suffering."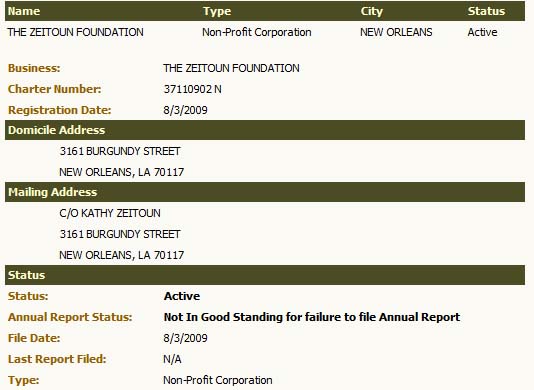 But according to the Louisiana Secretary of State, The Zeitoun Foundation is not in good standing (as seen in the above screenshot). The foundation has failed to file a single Annual Report since its registration date on August 3, 2009. This represents over $250,000 in grants, distributed over the course of three years, that has no clear or fully accountable trail.
The only information that the foundation's website provides is a list of "nonprofits supported by the Foundation," but nothing on the website designates how this grant money has been disseminated. The foundation's website has announced five separate rounds of grant allocations since its inception, but it's troubling that these cheery dispatches offer neither a date nor a list of specific grants for each round (one such example can be seen below).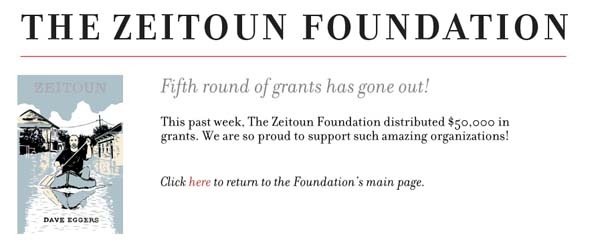 According to public records, the three officers that the Foundation lists as directors are Kathy Zeitoun, Abdulrahman Zeitoun, and Michelle Quint. Yet Kathy told The Times-Picayune's Laura Maggi that the Zeitouns were not involved in the foundation. This leaves Michelle Quint, who was Dave Eggers's assistant in 2008, as the accountable director.
Quint did not return our emails or telephone calls for comment. We did manage to get through to McSweeney's by telephone, where a young and somewhat nervous male voice informed us that "someone will get back to you very shortly." We are still waiting.
If you give directly to The Zeitoun Foundation, you're asked to make out your checks to a literary and visual arts collective called Press Street. But in studying financial documents, one begins to encounter a few accounting problems.
Reluctant Habits has obtained financial documents filed by Press Street with the IRS for 2009 and 2010. (To follow along, here's the 2009 990 (PDF) and the 2010 990 (PDF).) During the year 2009, Press Street issued $62,500 in grant money to The Zeitoun Foundation, designated to "rebuilding and cultural awareness grants to New Orleans area non-profits and to other national organizations." Obliged to reveal the grantees over $5,000, the 2009 990 contains a schedule listing the following organizations: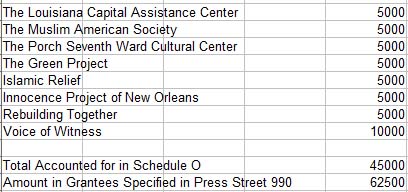 There's one big problem with this. And it isn't the $17,500 in grantees that the schedule doesn't specify (which is likely grantees who each received less than $5,000 in money for that year).
Someone who donates money to The Zeitoun Foundation is probably going to expect that the funds will be directly allocated to post-Katrina efforts or ongoing rehabilitation in Louisiana. But a few of these groups have nothing to do with The Zeitoun Foundation's stated goal, which is "to aid in the rebuilding and ongoing health of the city of New Orleans, and to help ensure the human rights of all Americans." The Muslim American Society is based in Chandler, Arizona and its stated mission is "to move people to strive for God consciousness, liberty, and justice, and to convey Islam with utmost clarity." (Additional financial documents obtained by Reluctant Habits revealed that this chapter of the Muslim American Society operates at Tulane University, based in New Orleans.) That's a laudable goal, but this faith-based approach is somewhat different from the foundation's stated reconstruction goals. (In contrast to this, Islamic Relief USA, another Zeitoun grantee which is based in California, has a clearly articulated relief-based mission fitting in with Zeitoun's goals.)
And then there's Voice of Witness, which Eggers himself is involved in.
Voice of Witness is a McSweeney's publishing imprint founded in 2004 as a nonprofit which has released several well-received oral history collections relating to social injustices. In 2006, Voice of Witness published the book Voices from the Storm: The People of New Orleans on Hurricane Katrina and Its Aftermath. But since 2009, Voice of Witness's activities have not involved Katrina or New Orleans at all. Here are a list of books that Voice of Witness has published from 2009 on:
Out of Exile: Narratives from the Abducted and Displaced People of Sudan (September 1, 2009)
A Spanish edition of Underground America: Narratives of Undocumented Lives (April 6, 2010)
Hope Deferred: Narratives of Zimbabwean Lives (March 1, 2011)
Nowhere to Be Home: Narratives from Survivors of Burma's Military Regime (April 12, 2011)
Patriot Act: Narratives of Post-9/11 Justice (August 23, 2011)
Inside This Place, Not of It: Narratives from Women's Prison (November 8, 2011)
Throwing Stones at the Moon: Narratives From Colombians Displaced by Violence (September 12, 2012)
Of the six new titles, only two (Patriot Act and Inside This Place, Not of It) fit into the Zeitoun Foundation's secondary goal of ensuring "the human rights of all Americans." The other titles, while tackling admirable issues, have nothing to do with Katrina or New Orleans.
So why would Press Street allocate funds through The Zeitoun Foundation to publish books that have little to do with its mission statement? Especially when Press Street itself has been publishing books that are more directly related to New Orleans and Katrina.
It is with the 2010 990 that the Press Street/Zeitoun Foundation finances become especially murky. The Press Street 990 shows $155,500 in grants distributed in 2010 through The Zeitoun Foundation for "rebuilding & cultural awareness grants to NOLA-area non-profits & national org + Benefits over $5,000." Yet unlike the 2009 990, the 2010 990 doesn't include an attached schedule which designates the organizations and individuals who received grants over $5,000, much less the class of activity, the grantee's name and address, the amount given, and the relationship of the grantee, as required by law.
We reached out to Press Street Director Anne Gisleson — the woman who signed the 990s — by telephone, email, and Facebook to clarify the Press Street/Zeitoun connection. She informed us by email that she had become involved with Eggers's philanthropy because Eggers had been "a longtime supporter of the New Orleans Center for Creative Arts," the high school arts conservatory where Gisleson teaches creative writing. The idea was to use Press Street as a fiscal sponsor for the foundation "because it was the most expedient way to distribute grants from the proceeds of the book."
"The Zeitoun Foundation is a fiscally sponsored project of Press Street and focuses the rebuilding of New Orleans and the fostering of interfaith understanding," said Gisleson. "After the book, Zeitoun, was released, the author and the Zeitoun family decided on a number of nonprofit organizations to which they would direct proceeds from the book. After compiling this list of organizations, the sole task of the Zeitoun Foundation was to direct funds to these organizations whenever funds from the book became available. Beyond helping to choose the organizations the Foundation supports, Kathy and Abdulrahman Zeitoun have had no day-to-day duties with the Foundation."
This statement confirms Kathy Zeitoun's remarks with the Times-Picayune's Laura Maggi.
We also asked Gisleson if she could provide us with a schedule accounting for the 2010 grantees that were not listed in Press Street's 2010 990. Gisleson claimed that Press Street was "in between spaces, with all of our papers and equipment in storage, so we're looking into finding the hard copy of the 2010 990 to see what happened with the Schedule O pages." She did provide us with this list of 2010 grantees:
Innocence Project NOLA
Muslim American Society
Rebuilding Together
The Green Project
Louisiana Capital Assistance Center
Voice of Witness
Meena Magazine
New Orleans Lens
Islamic Relief USA
The New Orleans Institute
The Neighborhood Story Project
Catholic Charities
Jeremiah Group
New Orleans Center for Creative Arts
Restore Wesley United
Muslim Student Association/Tulane University
The Porch
But without the dollar amounts, it's difficult to understand how these funds were allocated, or if they were even fairly divided. We pressed Ms. Gisleson further on the finances and she was kind enough to divulge the Schedule O sums (that is, the amounts over $5,000) on the 2010 990, in which the grantees are listed (with dollar amounts) as follows: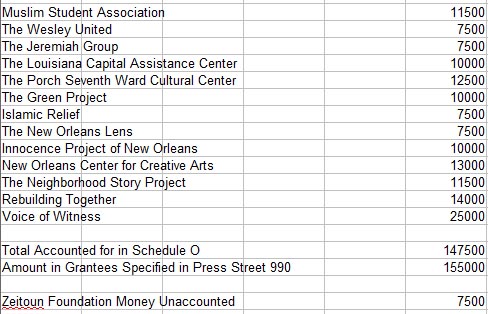 We were relieved to learn that most of the finances were accounted for and that Press Street was on firmer ground (even if The Zeitoun Foundation remains "not in good standing"). Voice of Witness, however, was the top grantee, receiving $25,000 of the funds. And as we have established above, the books don't quite fit in with the foundation's stated goals.
It's bad enough that Dave Eggers has refused to speak with journalists about Abdulrhaman Zeitoun's recent arrest on three charges of solicited murder — a set of developments which flies in the face of Eggers's depiction of Zeitoun as a robust and morally upstanding hero in his book. Eggers did issue this statement with Jonathan Demme, stating that he and Demme were "in daily contact with Kathy since the incident on July 25" and asking his audience to "join us in respecting the Zeitoun family's privacy at this difficult time." But while Demme is preparing an animated film adaptation of Zeitoun, what does Demme have to do with The Zeitoun Foundation? Shouldn't this statement be released on the main McSweeney's site?
But it would be refreshing to see Eggers, whose motives are clearly benevolent, open up about how he has used charitable funds. We shouldn't have to do this much digging to find out how the foundation has been allocating its monies. All this should be outlined on the foundation's website. (By contrast, The Valentino Achak Deng Foundation's financial documents are more clearly accountable.)
Eggers has claimed The Zeitoun Foundation to be "a very simple grant-giving operation." But if it was so simple, why did we have to do all this detective work? The McSweeney's operation has been around for fourteen years. Shouldn't it keep proper records by now? If The Zeitoun Foundation could file its documents in a timely manner or be transparent about the way it disseminates grants, we wouldn't have to make sure that it was in the clear.
8/16/2012 UPDATE: Thanks to an anonymous source, Reluctant Habits has obtained the 990 for The Zeitoun Foundation for 2009 (PDF available here) and it appears that The Zeitoun Foundation is more complicated than previously reported.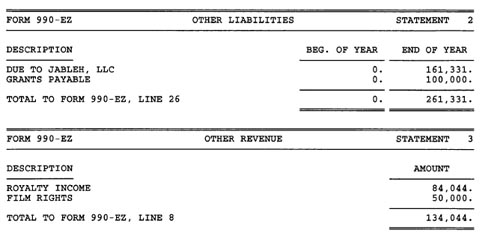 The 990 lists another organization by the name of Jableh, LLC, which was incorporated on July 16, 2009 and lists Dave Eggers as the registered agent for the organization. The 2009 990 for The Zeitoun Foundation lists $161,331 due to Jableh, LLC, which exceeds the $145,476 in revenue taken in by The Zeitoun Foundation for that year ($84,044 in royalty income from the book, $50,000 in film rights, and $11,432 in "contributions, gifts, grants, and similar amounts received"). According to Eggers's book, Jableh is where Abdulrahman Zeitoun was born and lived for a while.
Needless to say, our investigation has been reopened. We will offer additional findings in a separate report.
11/18/2012 UPDATE: We made efforts to talk with Mr. Eggers in person about these charges and more. As we reported at length on November 14, 2012, he ran away from us. He is also fleeing inquiries from other reporters. Mr. Zeitoun has also been indicted for attempted first-degree murder and solicitation.